One of the first curiosities Alexandra Stahl noticed on becoming the theater teacher at Maricopa High School this year is the affinity the MHS Theatre Company had with Peter Pan without producing the play.
IF YOU GO
What: Peter Pan or The Boy Who Would Not Grow Up
When: Nov. 8-9 at 7 p.m., Nov. 10 at 2 p.m. & 7 p.m.
Where: Maricopa High School Performing Arts Center, 45012 W. Honeycutt Ave.
How much: $5
Who: Taryn Story (Peter Pan), Genevieve Burno (Wendy), Antonio Gonzales (Hook), Simon Ty (John), Derek Blakely (Smee), Aidyn Curtis (Princess Tiger Lilly), Taya Johnson (Michael), Kjirsten Lemon (Mrs. Darling), Douglas Moulton (Mr. Darling), Brandon Korittky (Curly), Chief Great Big Little Panther (Nicholas Perez), Emma Schrader (Nana), Alexia Esquivel (Liza), Jae Luna (Slightly), Cannon Jones (Tootles), Julianna Goodrum (Nibs), Zephanie Coleman (Omnes), Hannah Panter (first twin), Alex Hurley (second twin), Kade Cruse (Gentleman Starkey), Tommy Dryden (Cecco), Miles Starks (Bill Jukes), Matthew Ferguson (Noodles), John Jackson (Cookson), Francis Trast (Skylights), Alex-Ann Velasco (Mullens), more than 50 others.
In past performances, company members have performed pieces from musical off-shoots of the J.M. Barrie story like
Finding Neverland
and
Peter and the Starcatcher
.
"They just seemed destined to do it," Stahl said.
The troupe performs the play Nov. 8-10 as its fall production. It is not a musical but the play that originated in 1904.
Though it is her fifth year teaching (she was previously at Poston Butte High School in San Tan Valley), this is Stahl's first with MHS Theatre Company. She worked to get familiar with the program and the students during spring semester.
"Casting was a real process. These kids are insanely talented," Stahl said. "I've never been so proud of a cast."
Senior Taryn Story plays the title character.
"I really like how it's written," she said. "It's written for kids, but there's a lot that adults can take out of it."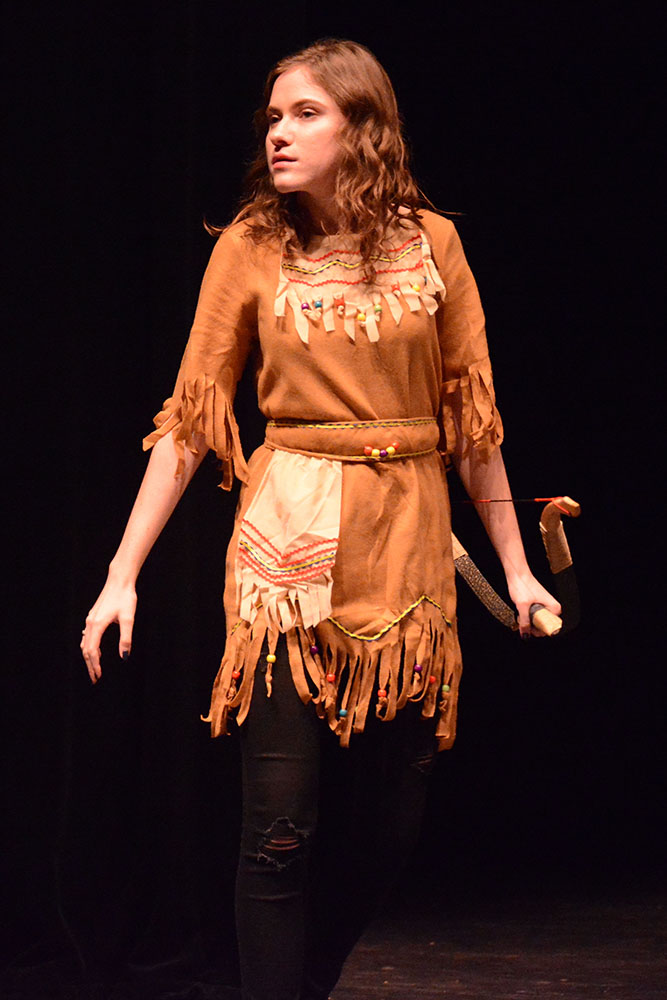 Junior Genevieve Burno, who just finished a production of Cabaret with Maricopa Community Theatre, plays Wendy, the eldest daughter in the Darling household.
"It's timeless," she said. "So much can be taken from it."
Theater tech teacher Kevin Piquette brought in ZFX Flying Effects to mount rigging and teach four of the cast members how to "fly" and the tech crew how to fly them. All had to sign letters of indemnity.
"Logistically, it's a nightmare," Piquette said of soaring students, "but I don't think you can do Peter Pan without it."
---
This story appears in the November issue of InMaricopa.
---
ACTORS WHO HAVE PLAYED PETER PAN
Nina Boucicault (1904)
Maude Adams (1905)
Zena Dare (1914)
Jean Forbes-Robertson (1927)
Eva LeGallienne (1928)
Mary Martin (1954)
Sandy Duncan (1980)
Cathy Rigby (1990)