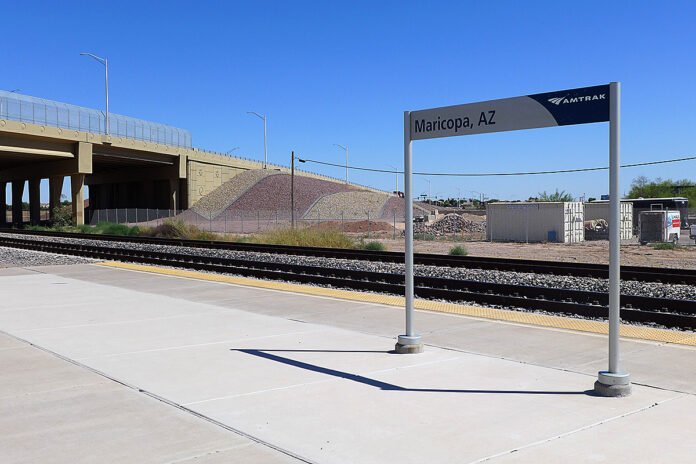 When Amtrak trains stop in Maricopa on their way to Los Angeles or New Orleans, riders will soon be greeted by a uniformed agent … again.
The rail station, west of West Mercado Street at the overpass, lost its customer service representative in June 2018 due to budget cuts.
According to Trains magazine, agents will return at 15 stations in 12 states following a congressional mandate last year to restore staffing.
"These uniformed workers will be trained to assist our customers with booking and boarding trains, including helping with unaccompanied minors, carry-on baggage and providing information on the status of arriving and departing services," Amtrak said in a statement. "These employees will be scheduled to meet customers for all trains."
Amtrak is trying to fill the customer service positions internally, and then will make them available to the public, according to news reports.
Amtrak did not respond to a request for more information about the carrier's plans.
The Sunset Limited, Amtrak's southernmost route, travels from Los Angeles to New Orleans three days a week. Westbound trains stop in Maricopa at 9:02 p.m. Tuesdays, Thursdays and Sundays. Eastbound trains make the local stop at 5:40 a.m. on Mondays, Thursdays and Saturdays.
An air-conditioned waiting room is available for about an hour before arrivals and about two hours after departure at the station in Maricopa, which is one of about 525 U.S. cities with an Amtrak stop.
Ridership on all Amtrak trains in April was 120,000, compared to 2.7 million in April 2019, a decline of 95 percent, as travel has been impacted by stay at home orders and social distancing recommendations to prevent the spread of coronavirus. As a result, service was cut on numerous routes. Service on the Sunset Limited has remained intact, however.