Spring Break is here and the glittering lights from within a Maricopa attraction will glow again just in time for families to enjoy.
After a pause for renovations, Ak-Chin Circle Entertainment Center's Arcade and Laser Tag arena will reopen Friday, March 11 at Noon.
"Guests can expect to find completely redesigned gaming spaces and perks," said Operations Manager David Trujillo.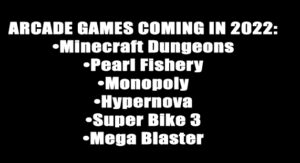 On opening day, Play 'n Win GameCenter will unveil its newest, Minecraft-themed game and will introduce new games every few weeks in the coming months. Every Wednesday, beginning after opening day, the arcade will host happy hour when games will be half the normal price.
Aside from internal improvements, like updating the gaming power grid, the arcade received cosmetic enhancements, too. The play center was refreshed with brand new, glow-in-the-dark carpet that fluoresces beneath high-intensity LED black lights.
The arcade's redemption prize store received a complete redesign with new paint and rewards at an affordable price-point.
"We wanted to bring in items that were really great, but wouldn't take 10 visits for you to win," Trujillo said.
Hanging on the store's neon walls are vibrant prizes with new categories including: board games, princesses, trademark items and action themes. The high-end cabinet features smart voice assistants, wireless earphones and other tech.
The facility reimagined its laser tag course as an apocalyptic wasteland with new graphic decals, fog machines and updated play modes that transport players to a radioactive-like space. On opening day, families can enjoy buy-one-get-one free laser tag games.
The renovation brought an opportunity for ideas and innovation for General Manager Laurie McCartney while her team continued successfully operating the facility's 12-screen theater, sit-down restaurant, and bowling alley.
"Our renovated arcade and laser tag not only enhance the guest experience, but also further reflects the fun and energy that makes Ak-Chin Circle Entertainment Center such an amazing place," McCartney said.
The page will soon turn toward the entertainment center's second story: reopening its upstairs bar and 21+ theater balconies, which closed at the start of the pandemic.
"We plan to open Star Class later this year on Fridays, Saturdays and Sundays," Trujillo said, adding, "We'll start with a limited food and drink menu that way we can get the feel for public support.
Once we get the ball rolling on that, we will look at reopening Luxe on a similar schedule," he said.
Currently, the Luxe Lounge is available to book for private parties and guests can rent a theater for a movie showing with friends.
In the meantime, Trujillo looks forward to the future after many changes. In 2020, the facility changed leadership and received a new name and branding as a result.
"The building will be fully reopened soon," Trujillo said. "And that will be just a peek into the brand-new vision of Ak-Chin Circle and what it is becoming.
Address: 16000 N. Maricopa Rd. – Phone: 520-568-3456