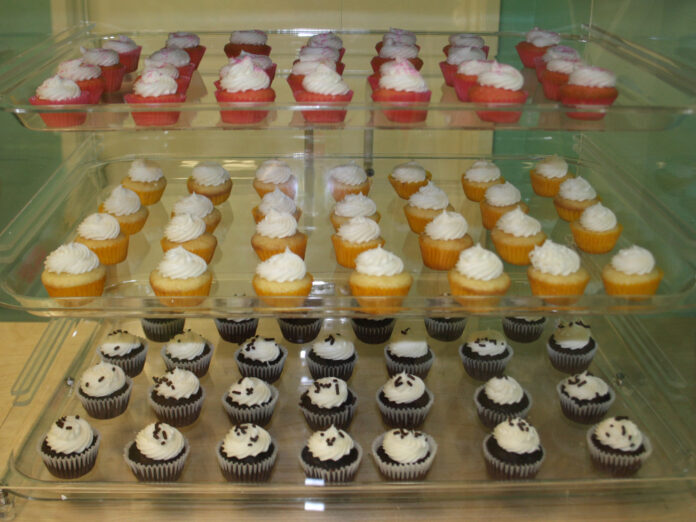 Three years ago, Karla Wear did her sister-in-law a favor, baking some apple-shaped cookies for Teacher Appreciation Week.
When photos were shared on Facebook, the cookies became a hit: she received 500 orders.
She had always baked for family and friends, but that taste of success nudged Wear, 29, to launch Sweet Cravings, a home-baked goods business, out of the single oven in her family kitchen.
Now her business takes the next leap, with the grand opening from 5 to 8 p.m. today of her new bricks-and-mortar shop in the Stage Stop Marketplace.
Wear bakes cakes – specialty and special orders included – as well as gourmet cupcakes, brownies and cookies.
One of her featured offerings allows customers to mix-and-match favorite flavors with a six-pack of gourmet cupcakes, she said. She'll also offer gift boxes of baked goods.
Another of her tasty treats is the "Cookie Monster," a vanilla or chocolate cupcake with a different cookie mixed in, topped with icing. Different cookies will be featured.
Sweet Cravings also will sell keto-friendly and gluten-free products.
Wear is a long-time resident of Maricopa. She has lived here since 2005 – her family relocated here from Mesa that year – except for the three years her husband, Tanner, spent as an Army infantryman at Fort Polk in Louisiana. They returned to the desert.
A 2009 graduate of Maricopa High School, Wear has two children: a daughter, 9, and son, 8.
She and her husband are detention corporals at the Ak-Chin Tribal Police & Detention Center, where she works the 5 a.m. to 7 p.m. shift on Fridays, Saturdays and Sundays. In her spare time, she bakes.
A big believer in shopping local, Wear wants to give back to the community she loves so much. Earlier this year, she participated in the "Sponsor a Senior" program for Maricopa High graduates.
She said she has had lots of support from her husband, mother and father-in-law as preparations were made to open the shop.
Excited about the great response on social media to her new venture, she said she has added about 300 followers on her Facebook page – now 2,284 and counting – in the past month.
"I think this will be an opportunity to get to know a lot more people, and for them to get to know me," she said.
Sounds like a sweet plan.
The grand opening runs from 5 to 8 p.m. today. Visitors will be able to sample mini cupcakes in three varieties – vanilla, chocolate and strawberry.
Sweet Cravings is at the Stage Stop Marketplace, 44301 Maricopa Casa Grande Highway, Suite 5C, in Maricopa.