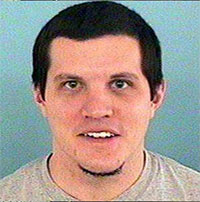 A seven-woman, five-man jury convicted Kathryn Sinkevitch of first-degree murder Tuesday in Pinal County Superior Court.
Sinkevitch was convicted in the shooting death of 31-year-old Michael Agerter on Dec. 16, 2016.
Agerter, her ex-boyfriend, was shot and killed in the garage of his rental home in Rancho El Dorado. The two lived separately but had an infant son together.
Prosecutors maintain the murder occurred because Sinkevitch did not want to share custody of the child with Agerter and the two were involved in a court battle, including DNA testing.
Agerter was murdered just hours after submitting DNA samples at Labcore.
After a little more than a day of deliberations, the jury handed down its decision shortly after 4 p.m.
As the verdict came in, Agerter family members let out a loud gasp of relief while Sinkevitch sat and seemed unaffected by the verdict.
She sat and drank water as the jury handed out her fate.
As Agerter's mother Leslie Agerter left the courtroom, she said, "I'm just glad that it is finally over." She and her family sat through every day of the long trial.
"Obviously, I am disappointed," said Sinkevitch's defense counsel, Bret Huggins. "There are some legal issues that have to be raised. I think we got a really good jury. I think they did a real good job. It is not over yet, but I am very disappointed that the jury saw the case differently than I did."
Huggins said sometimes circumstantial evidence can be compelling, but he claimed the evidence in this case was not very strong.
"The circumstantial evidence in this case is, 'We can't tell who it is, and people are excluded.' I'm disappointed, but that's personal. I got a fair trial. My client got a fair trial. We think there have been legal errors made and we want to raise them in the appropriate court," Huggins said, adding those issues will be in reference to how he believes his client's constitutional rights were violated.
Judge Kevin D. White set the sentencing date for Sinkevitch as June 6 at 9 a.m.
More to come …