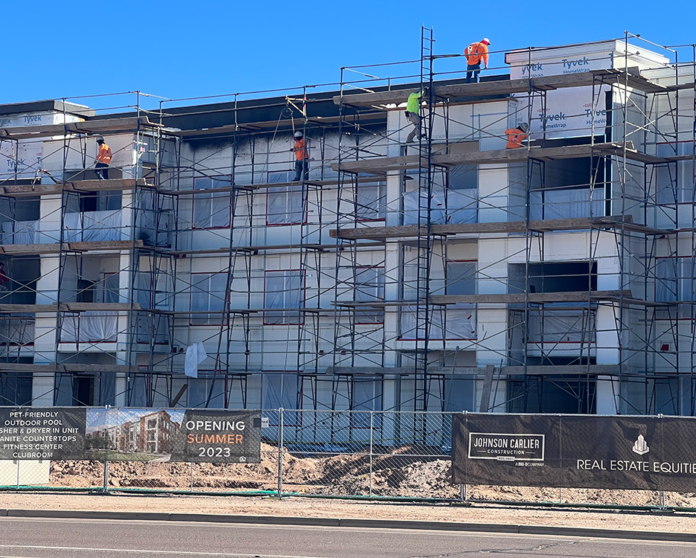 Maricopa's first all-affordable housing apartment project began leasing Dec. 22 and demand has been strong.
"We are doing well," said community manager Yolanda Garcia. "Since we started leasing last Thursday, we have leased 32 units and have 44 applications pending. That is in just five days and one of those was Christmas."
The property's developer and property manager, Real Estate Equities, began taking applications on Nov. 24. The 312-unit project will be leased in five phases through December 2023. Garcia said the phase opening dates and number of units are:
•         Phase 1: March 24 – 48 units.
•         Phase 2: May 18 – 72 units.
•         Phase 3: July 10 – 48 units.
•         Phase 4: Sept. 26 – 72 units.
•         Phase 5: Dec. 21 – 72 units.
Garcia said Copa Flats is responding to a need in the community.
"We are providing people with low-income homes," she said. "The big thing is that we give people a place to call home. We do that by taking into consideration people's individual circumstances. We can approve people with social security income, we can take section 8 vouchers, we try to make it as easy as possible for people to find a nice, affordable home.
"We can help people in the community who might be having trouble finding a place to live," Garcia continued. "These apartments are affordable, and the qualifications are flexible so we can help people. We make it easier for people to qualify."
The community at 17485 N. Porter Road offers one-, two- and three-bedroom units.
According to the leasing website, a one-bedroom apartment with 647 square feet will rent for $994 a month. A two-bedroom unit (930 square feet) will rent for $1,192 and a three-bedroom unit (1,238 square feet) will rent for $1,377.
Apartments are income-restricted based on unit and household size.
"Copa Flats will offer the level of amenities and finishes you would find in new market-rate developments and will also feature many sustainable and energy-efficient design features such Energy Star appliances," said Eric Omdahl, Real Estate Equities' development partner. "We are thrilled to provide much-needed affordable housing and to become part of a flourishing community in Maricopa."
The community features amenities including a fitness center, yoga room, clubroom with kitchen, swimming pool, dog run, playground, and grilling stations. Interiors are complete with high-quality finishes such as granite countertops, stainless steel appliances, in-unit washer and dryer and vinyl-plank flooring.
"We are excited to provide a lower-cost housing option for those who have recently been priced out of market rate rental properties that have seen substantial increase in rental rates across the Valley," Omdahl said.
Real Estate Equities specializes in multifamily development and management and currently manages more than 4,500 units around the country.