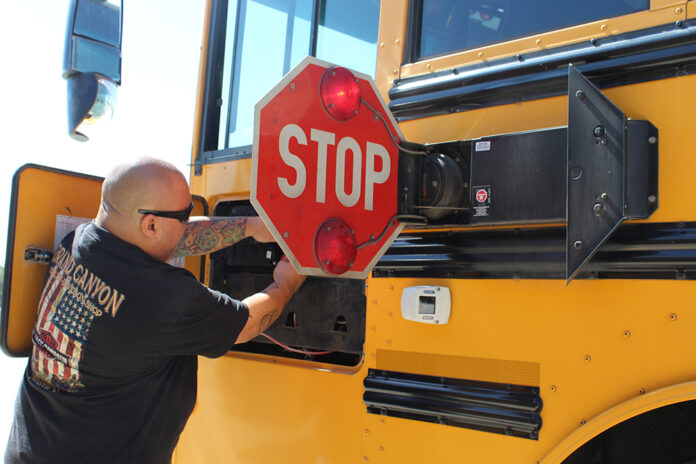 New surveillance cameras installed below the stop-arms of school buses could lead to traffic citations.
The Maricopa Unified School District's Transportation Department installed the cameras in September after bus drivers continuously reported vehicles passing while the stop-arms were out.
According to state law, drivers must stop in either direction when a school bus has its flashing lights on and when its stop-arm is displayed. The law states motorists can continue driving when the "bus resumes motion or the signal and alternately flashing lights are no longer displayed."
According to MUSD, however, many motorists fail to follow the law.
Sergio Pulido, MUSD transportation coordinator, said the department receives around 25 unlawful passing complaints from bus drivers a month.
"It happens a lot, and thank God that a kid hasn't gotten hit," Pulido said.
Currently, bus drivers submit written reports, including license plate numbers, to Pulido, who then forwards them to the Department of Public Safety.
However, Pulido said it's unclear what happens after DPS receives the complaints and whether citations are ever issued.
That's one reason the district met with Maricopa Police Department before the school year began to discuss sending footage captured by its cameras directly to local police.
MPD spokesman Ricardo Alvarado said the department is coordinating with the Maricopa/Stanfield Justice Court to implement an agreement among the district, MPD and the court.
In Arizona, civil penalties for the first violation include a minimum fine of $250. The fee increases to $750 and a suspended license if a second offence committed within 36 months of the first. A third violation carries a $1,000 fine and a suspended license of up to a year, if it occurred within 36 months of the original.
Pulido said the department is also considering meeting with Ak-Chin Police Department and Pinal County Sherriff's Office to issue citations captured by bus cameras in areas outside of Maricopa city limits.
MUSD installed surveillance cameras in the interior and exterior of its school buses for three years and expects to have the new stop-arm cameras operational after updates to its software program are made in the coming weeks.
---
This story appears in the October issue of InMaricopa.