Michael Agerter's accused murderer will face a 12-person jury trial after the Thanksgiving holiday.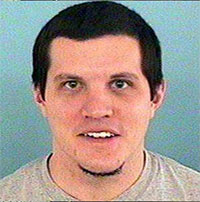 The four-week trial will begin Nov. 27 and is expected to end just four days before Christmas.
Pinal County Judge Kevin White vacated the original spring trial for defendant Kathryn Sinkevitch last month to accommodate defense attorney Bret Huggins' slammed trial load.
White expressed concern in court April 9 that the new trial may run long and overlap into the busy Christmas week. He told Huggins and prosecutor Shawn Jensvold he may add Mondays to the trial schedule to prevent that situation.
If that decision is made, it's unclear whether the inaugural day of trial would be moved to Nov. 26.
White also asked lawyers on both sides if a settlement conference had taken place. The goal of these sessions is to resolve the case without trial.
Huggins said one hadn't occurred and later agreed with Jensvold's comment that it likely "would not be fruitful."
The day before the last week of trial begins will mark the second anniversary of Agerter's murder. The victim was shot to death in the garage of his Rancho El Dorado home Dec. 16, 2016.
Monday's successful trial date setting was not without a violation of courtroom etiquette.
A bailiff admonished a woman for waving and repeatedly calling the suspect's name from the gallery as Sinkevitch walked shackled to a holding cell at the conclusion of the hearing.
Sinkevitch will return to White's courtroom July 16 at 1:30 p.m. for a status review conference ahead of trial.