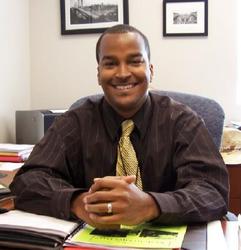 85239: How long have you been a Maricopa resident?
Harris: I relocated to Arizona in 2004 and have resided in Maricopa for the past year.
85239: Since this is your first year with the Maricopa Unified School District (MUSD), what were your previous experiences in education?
Harris: I began my teaching career in the state of Indiana as a sixth grade language arts, science and social studies teacher before relocating to Arizona. From there I taught fourth grade in central Phoenix. During my tenure in Phoenix, I served as a team leader, a member of the superintendent's cabinet and the testing coordinator for the school.
85239: Where are you from originally?
Harris: I was born and raised in Indiana, the youngest of three boys.
85239: Do you have family in Maricopa?
Harris: My proud parents James and Joyce Harris also reside in Maricopa.
My wife Tamela is a science teacher in the Chandler Unified School District. We are the parents of three lovely children, Vaughn (sixth grader at Maricopa Wells Middle School), Carter (second grader at Santa Cruz Elementary) and Madison (first grader at Santa Cruz).
We are also excitedly expecting twins (a boy, Aaron II, and a girl, Ashley Charleston Grace) in late December.
85239: As the new assistant principal at Maricopa Elementary School, what are your responsibilities?
Harris: My responsibilities as assistant principal of Maricopa Elementary School (MES) are the same as the principal's; there is basically no difference.
My main responsibility is being the disciplinarian of the school. I must monitor the playgrounds and cafeteria before and after school. By doing so, this will ensure that students are part of a safe and orderly environment. I must also evaluate teachers, lead the Student Assistance Team (SAT) and assume any other duties delegated to me by the principal, Bonnie Gibson.
85239: What do you like best about your job?
Harris: The best part of my job is being able to build relationships with parents, students, staff and any other members of this community and our neighboring community, Ak-Chin. Getting to know people will lead to trust, which allows me to service and meet the needs of all involved in the educational process at MES.
85239: Do you have any special goals or plans for this year at MES?
Harris: My goal for Maricopa Elementary School this year is to become a "Responsible Thinking" school. I am currently working with the PTO for funding, and a vote should take place in the upcoming weeks.
The Responsible Thinking Process helps children organize their thoughts and builds the background necessary for self-discipline and self-confidence that will be needed in resolving future conflicts. With this in mind, students who go through the process of Responsible Thinking should be able to responsibly think about their actions before they act.
The long-term effect of Responsible Thinking will lead to fewer student office referrals and a safe and orderly campus. It will instill a discipline inside students that can be used outside of Maricopa Elementary School.
Another goal for this school year is to create a Student Council designed for leadership development within the school. Students will be involved in meaningful activities both in and beyond the classroom. It will provide opportunities for students to demonstrate their talents, skills and interests while continuing to develop new skills. The council will also give students more ownership of their education and other programs they may attend later in life.
85239: What are some of your interests or hobbies outside the world of education?
Harris: I have a variety of interests that take up my time outside the world of education. Reading, traveling, playing and watching baseball and home decorating come to mind – just to name a few!
Most importantly, spending quality time with my family is my greatest interest. Being a supportive husband to my wife and a role model to my children are among my many interests.
I have been preparing over the last six months for the arrival of our twins. It is an experience of a lifetime that will prove to be a challenge because we will have moments of fatigue (late nights) but, in the end, comes joy, amazement and love!
Photo by Joyce Hollis
If you have a colleague, associate or neighbor whom Maricopa should get to know, contact us.