By Al Brandenburg
Coming from upstate New York, I've always had several varieties of tomatoes and peppers in my garden. For those of you who have tasted a freshly grown tomato, you know that store-bought tomatoes don't even begin to compare in taste or texture.
So, maybe you have decided to try growing tomatoes and peppers this year. If so, I would like to give you some tips that may help you grow wonderful tomatoes as well as delicious sweet or hot peppers. So, let's get started:
Determine the right time to plant. If you are growing from seed, the first week in January is ideal as both tomatoes and peppers require at least 6 to 8 weeks from sowing seed in pots to planting. Tomato seeds should be started indoors and then transplanted to your beds once they have a few leaves and an established root system. Tomato seeds need a constant soil temperature of at least 60 degrees, and preferably 80 degrees, to germinate. I put my started plants in the ground the last week in February (assuming no danger of frost) or the first week in March.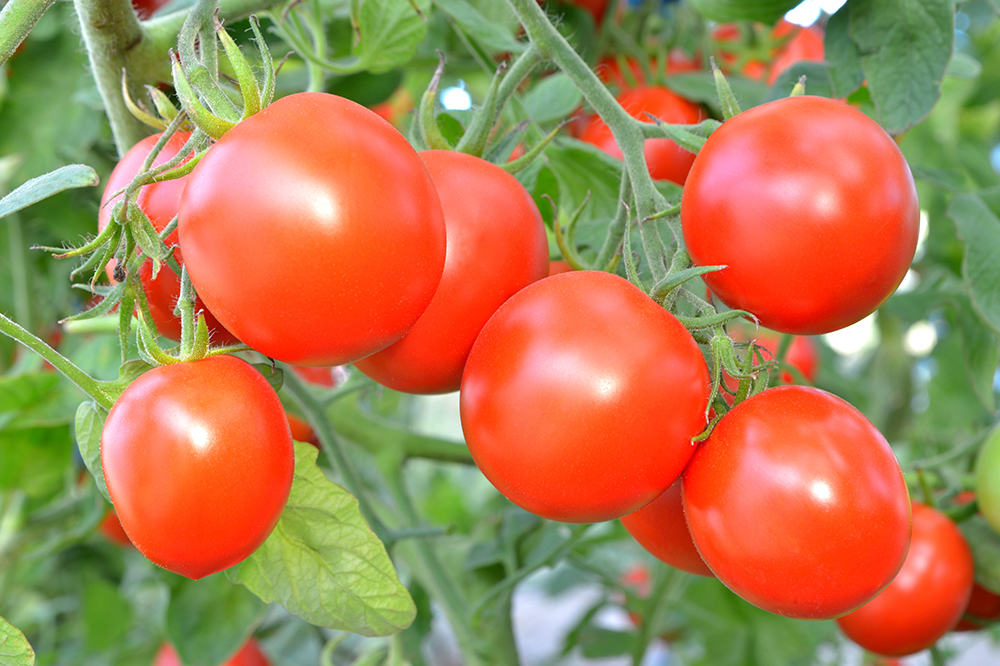 Planting seeds indoors. You will need a good light source. I use fluorescent 4-foot lamps with GE grow lights (not regular lamps) hanging from chains so I can adjust the height as the seedlings grow. Soilless potting mix (available at any garden center) is the medium of choice. Cell packs are OK for starting seeds, but a better idea is to use a small pot at least 3 or 4 inches tall and wide so the seedlings can grow to a healthy size without their roots being constricted. Plant two seeds in each pot to assure germination success. A heat mat and controller will greatly help warm the soil as well as accelerate the growth process. Be careful not to overwater as you will risk dampening and killing the seedling.
Selecting seeds and plants. Tomatoes are classified as either Determinate types (puts out fruit just once) and Indeterminate types (puts out fruit for the entire growing season). If you decide to buy ready-to-plant vegetables in your garden, keep in mind the garden centers get many varieties from their vendors that don't necessarily grow well here. As an alternative, on the first Saturday in March each year the local Master Gardener group has a plant sale at the Maricopa Agricultural Center. They offer varieties that have proven to do well here.
If you decide to plant from seed, many of the seed catalog houses offer a wide spectrum of regular and heirloom seed varieties. For regular tomatoes, I have had great success with Super Sioux, Black from Tula (both draught and heat tolerant), Cherokee Purple, Paul Robeson and Celebrity. For cherry tomatoes, I recommend Sweet Million and Sun Gold. San Marzano and Roma are great sauce varieties. For sweet peppers, North Star (bell) and Italia do very well here. For hot peppers, Joe E. Parker or any of the chiles and serranos will do well.
Select the ideal location for planting in the soil. Tomatoes and peppers require at least 6 hours of sunlight a day. Make sure you plant them in a location that gets shade in the afternoon, so when the weather heats up and the sun is higher in the sky, your plants will survive much better. Plant tomatoes and peppers at least one foot apart and deep enough for the soil to be just above the very bottom leaves. Make sure the hole is four times wider than your root ball. About the first week in May, place shade cloth over your tomatoes to keep the plants from stressing. You can build a framework out of wood or PVC pipe to create a proper frame for the cloth.
Use a good support and water regularly. Most tomatoes require staking. You can use wooden stakes, a trellis, or any other means of support. Some varieties of peppers grow very tall, so some support will help the branches from sagging. Water every other day in the spring and once a day for an hour when it starts to get hot. Do not overwater; it is the No. 1 reason for plant failure here in the desert. To help keep those pesky white flies off your plants use NEEM oil (readily available in garden stores) mixed with some safe-to-use insecticide. Spray under the leaves once a week. You should have tomatoes and peppers by mid-April, so get ready to feast on your favorite sandwiches and sauces.
520-374-6263
MacMasterGardener@gmail.com
Al Brandenburg is a Master Gardener and Maricopa resident.
---
This column appears in the January issue of InMaricopa.