Maricopa is surrounded by desert historic sites, but it is not always easy – or legal – to get to them in a vehicle.
Take, for instance, three recreation areas that have been closed to vehicles since 2008. They hearken back to a pre-Civil War era. All are on land belonging to the Bureau of Land Management.
What was supposed to be a two-year effort has stopped traffic there for eight years. Now the BLM wants to re-open some motorized access points near Maricopa. That plan is going through an Environmental Assessment process.
That brings up the National Landscape Conservation System. Its mission is "to conserve, protect and restore these nationally significant landscapes that are recognized for their outstanding cultural, ecological and scientific values."
"Within the boundaries of the Sonoran Desert National Monument, we have several units of the NLCS," said BLM Manager Dave Scarbrough, who presented information on the plan at a forum in Maricopa in June. "We have three wildernesses and the Juan Bautista de Anza National Historic Trail (Anza NHT)."
Three sites on the historic Anza NHT, which partially served as the Butterfield Overland Mail Route and is named for the Sonoran explorer of the 1700s, are the Butterfield Recreation Area, Estrella Recreation Area and Christmas Camp Group Area. All have access from State Route 238.
Scarbrough said 90 miles of routes in the national monument were closed to motorized traffic to repair damage done by abusive off-highway vehicle (OHV) riders. That included these three locations.
"It created a lot of problems with dust and damage to the vegetation," Scarbrough said.
Until a management plan was completed, the routes remained closed to settle a lawsuit.
A study by researchers from Northern Arizona University spelled out the damage to vegetation and rock formations caused by abuse by humans, particularly in creating trails and leaving garbage. During the closure, Boy Scouts and other volunteers restored the damaged areas.
Now, BLM is ready to start a new management plan.
Butterfield Overland Mail Route (from east to west)
St. Louis to Tipton, Missouri, by rail                   160 miles
Tipton to Fort Smith, Arkansas                           318 miles
Fort Smith to Colbert's Ferry, Oklahoma            192 miles
Colbert's Ferry to Fort Chadbourne, Texas         282 miles
Fort Chadbourne to Franklin (El Paso), Texas    458 miles
Franklin to Tucson, Arizona                                 360 miles
Tucson to Fort Yuma, Arizona                              280 miles
Fort Yuma to Los Angeles, California                 282 miles
Los Angeles to San Francisco, California           462 miles
1. Butterfield Recreation Area
According to the plan, Butterfield would be developed as the "primary visitor destination" of the SDNM.  BLM Route 8004 will be gravel surfaced from State Route 238 north for about 1.25 miles to Gap Well. It would have an unmanned visitor contact station, parking for 10-15 vehicles, campground with 18-24 sites (no hookups) and access to non-motorized trails.
Gap Well would be developed as a group site for up to 200 people. A day-use area and trailhead would be developed north of Gap Well and adjacent to the Juan Bautista de Anza National Historic Trail. A fence would be constructed, if necessary, to keep vehicles off the Anza NHT.
Anza NHT is part of the historic Butterfield Overland Mail Route that ran from St. Louis to San Francisco from 1858 to 1861.
"It was the first real east-west mail-carrying service," local historian Denny Hoeh said.
Among its local stage stops were Sacaton, Casa Blanca, Maricopa Wells, Gila Ranch and Desert Stage Station. John Butterfield, who drove a stagecoach out of Albany, New York, landed the government contract to carry the mail along the southern route in 1857. He lost the route just before the start of the Civil War, officially because of debt, but Hoeh pointed out, "Northerners thought southern trails were confederate."
Pieces of the route can be seen sporadically, including near the Butterfield Recreation Area, where it is on a non-certified portion of the Anza NHT.
In 2009, a special resource study was started that could lead to the designation of the Butterfield Mail Route as a National Historic Trail, too.
2. Estrella Recreation Area
The BLM project would develop the ERA to "provide motorized access to the mid-point of the Anza NHT." That would include a gravel-surfaced road, BLM Route 8002, a quarter to a half mile north from SR 238 to an unmanned visitor contact station. There would be a parking area for about 10 passenger vehicles and five RVs.
Another four miles of road to the Wayside Group Area, where it accesses the non-motorized Butterfield Trail, would continue to be primitive, available only for four-wheel drive vehicles. About 10 primitive campsites would be available adjacent to routes 8002B and 8002C.
Wayside, used by hikers on the Anza NHT, would be developed for 75 people and up to 20 vehicles.

3. Christmas Camp Group Area
Almost six miles east of the Wayside Group Area on the Butterfield Trail is Christmas Camp. It historically has been used for Boy Scout gatherings, which is why local Scouts helped restore the area after the OHV damage.
BLM Route 8003 would be brought to grade at SR 238 with a culvert or fill material and a cattle guard. The road would be stabilized for 2.5 miles north to Christmas Camp. SDNM would post an entrance sign at SR 238, and a kiosk would be posted just north of the entrance.
Route 8003 would be open to motor vehicles from SR 238 to Christmas Camp, but barriers would be installed to keep motorized traffic off of the Anza NHT. Christmas Camp site will be developed to have a capacity of 200 people and 75 vehicles.
Christmas Camp predates the Butterfield use of the Anza trail. It was a stopping point on the military expedition of the Mormon Battalion during the Mexican War. The battalion camped at or near the site on Christmas Eve 1846.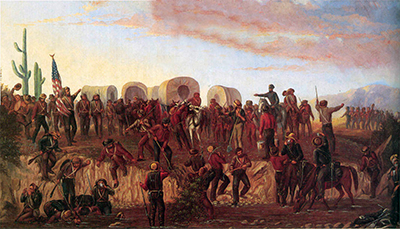 The battalion of more than 500 men was recruited in Council Bluffs, Iowa, as the Church of Jesus Christ of Latter-day Saints was trying to gain resources to migrate west. Despite members' distrust of the federal government for allowing them to be run out of Missouri and Illinois, church President Brigham Young approved of the deal to help pay migration costs. The church set up Winter Quarters in what is now Omaha, Nebraska, while the enlistees went on a 2,000-mile hike to San Diego.
"It was the only unit designated for a religion," Hoeh said.
It turned out to be mostly blood-less venture, the only engagement being with an aggressive group of wild bulls. From New Mexico to California, they were commanded by Philip St. George Cooke. One of their guides was Jean Baptiste Charbonneau, son of Sacagawea. They traded with and were helped along the route by the O'odham and other native people.
After they were mustered out, some returned to their families while others stayed on in California to work for a time. Some worked at Sutter's Mill near Sacramento and were on hand for the discovery of gold that led to the Gold Rush. Hoeh said about a third of later miners came to California via the southern route.
Among the many ways the Mormon Battalion stood out from typical recruits was the high rate of literacy. Many of the men kept journals, making the journey one of the most detailed western expeditions of record, Hoeh said. That has enabled historians to track their route through Arizona and get a glimpse of life in the Sonoran Desert in the 1840s. Boy Scouts have used Christmas Camp for gatherings to retell and emulate that journey.
NEPA Project
The National Environmental Police Act project is to develop an environmental assessment and plan to reopen the closed routes and develop additional recreational amenities within the Sonoran Desert National Monument. There is a warning attached: "These lands shall not be opened to the type(s) of off-road vehicle to which it was closed unless the authorized officer determines that the adverse effects have been eliminated and measures implemented to prevent recurrence."
Dallas Meeks is project leader.
623-580-5681
dmeeks@blm.gov
Click here for a PDF of the recreation plan.
---
This story appeared in the September issue of InMaricopa.