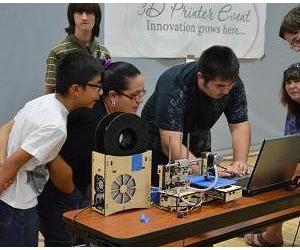 The winners of the Maricopa Center for Entrepreneurship 3D printer and designer contests were named April 17 at a ceremony held at the Sequoia Pathway Academy.
MCE director Tom Baxter said the organization hosted the contest, funded by Pinal County, because "we are interested in providing a place where innovative entrepreneurs can congregate."
Student participants were asked to build 3D printers from kits and develop 3D designs in the following categories: toys, modified-consumer products, teaching tools and art.
The Maker competition included teams from Legacy Traditional School, led by Judy Noneman, Maricopa High School, led by Ed Turner, and Sequoia Pathway Academy, led by Sharron McConkey, according to an MCE press release.
Legacy Traditional School won the Best Build Award.
Best Design in the middle school age group was awarded to Joseph Rice, a student at Maricopa Wells Middle School.
Andrew Helm, a student at Sequoia Pathway, won the Best Design in the high school age group.
The People's Choice award went to AJ Shah, a student at Sequoia Pathway.
The grand prize winner was Noah Brown-Behrens, also a Sequoia Pathway student.
"All of the maker teams did an excellent job with all teams displaying admirable tenacity throughout the competition," said Carla Brooks, MCE administrative assistant.***ADVERTISEMENT***
"The event had an impressive turnout," Brooks said. "It was really great to see so many people come out to support our youth in technology."
Supervisor Anthony Smith, Maricopa city councilwoman Peggy Chapados and Jim Rhodes, director of the Central Arizona College Small Business Development Center, judged the event.