Brielle Macedo was diagnosed with I-cell disease when she was 18 months old. There is no cure for the disorder formally known as Mucolipidosis II. The average life span for those with the recessive disease is three to five years.
Brielle is 3 years old.
Her mother Kim describes the rare disorder as attacking every cell in her body. It has also caused some symptoms of dwarfism. She is small for her age, easily tires and is far more likely to crawl than walk. She also cannot mix in large crowds, which keeps her mainly indoors and almost always at home.
She wished for a playspace instead of the strictly desert backyard of Kim and Javier Macedo's Sorrento home. The Macedos originally just asked for a "track" where they and Brielle's two sisters can walk her in her wheelchair.
The Make-A-Wish Foundation started looking for ways to make that happen, but it was even a little more challenging than expected. One of the problems was that Make-A-Wish has only two volunteers in Maricopa, so making the connections for such an undertaking was difficult.
"If you're going to work with Maricopa, you have to have an 'in.' People will come together and help no matter what, but it was hard for us coming from Phoenix," said Jennifer Rosvall, wish manager for Brielle's project. "So we connected with Beth [Huerta] at Global Water, and she called Ryan [Riecks], and Ryan has graciously volunteered all his time as project coordinator."
The project took four months to get off the ground but was mostly completed on Saturday.
Riecks owns AZ-Ry's Landscaping in Maricopa. Joining the cause from the business community was ACE Hardware, Electrical District No. 3, Wildcats Building Materials, Leaf & Feather Farm, Horizona Distributors and Papa John's Pizza. From Phoenix, Suntec Concrete and Hardison Downey also provided their services.
"She's been confined to the house, so we're going to bring the living room outside," Rosvall said.
Huerta said Global Water, which had its CEO and general manager both working in the Macedo yard, first heard about Brielle from the Maricopa Economic Development Alliance.
"We thought it was the perfect opportunity to help this little girl," she said. "In true Maricopa fashion, people just tend to show up."
The Professional Firefighters of Maricopa Local 4561 also participated, as did the soccer team of which 10-year-old Ashley Macedo is a member. Ashley and middle sister Bella did their share of work to make Brielle's wish come true.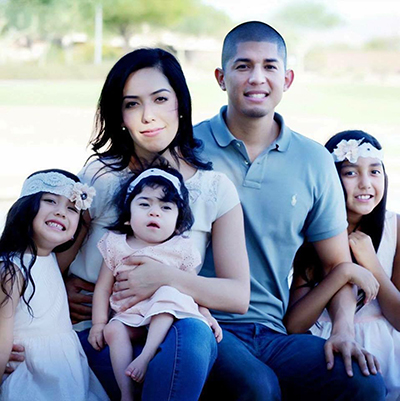 The completely reworked backyard has a cement track with a seating area, turf, plants and a gazebo.
"She's just going to love it so much," Kim Macedo said.
One corner is designated as a memorial garden, a reminder that this is not the first heart-wrenching adversity faced by the Macedo family. Kim and Javier's second child, Jaileen, was born with a different recessive disease and lived only two days.
"To find out we're going to lose another kid is just devastating, but we try to make the best out of it," Kim Macedo said. "It's so traumatic for our other kids, too, so we try to make sure when she's sick and in the hospital that we get them out there and playing sports and get them involved."
Javier Macedo said he was amazed at the volunteers who showed up to help Saturday. Of the dozens working, he said he knew only seven or eight.
He said he and Kim have been able to stay strong through Brielle's ordeal by maintaining perspective.
"Everybody has problems in life," he said. "The important thing is to not let those problems take over your life. Keep your head up, stay strong. You got people that love you who want to see you pick yourself back up. That's what we try to tell our daughters."
It was something they had to learn how to do, Kim Macedo said.
"I was shocked," she said. "You just take it day by day. There's nothing we can do. There's no cure for her illness."
She left her full-time job to stay at home with the girls. Javier works as an analyst at University of Phoenix. Going down to one paycheck was a different kind of challenge, but they have found help.
A nurse comes in nightly to watch Brielle's medical needs, and a day nurse comes when the family takes the other kids to soccer and other activities, alleviating some of the stress of the situation.
"Life is beautiful. It's extremely beautiful," Javier Macedo said. "It would be a shame if you just throw it away because you have problems in life."
The outpouring of support from the community indicated for Make-A-Wish the potential of Maricopa to fulfill the foundation's needs in the city.
"We don't have very many volunteers down here. I think we maybe have two in Maricopa," Rosvall said. "We're hoping we can get more. If we had four more volunteers down here, I'd be as happy as can be – just good-wish granters who would like to work with us and help Maricopa kids."
Learn more at Arizona.Wish.org.
Visit Brielle's Facebook page at https://www.facebook.com/bravelittlebrielle