The class of 2018 at Maricopa High School and Sequoia Pathway Academy is filled with many goal-oriented, career-minded individuals. Learn about a few of them as they prepare for the commencement of the rest of their lives. Maricopa High School graduation is May 24 at 7:30 p.m. at Ram Stadium. Sequoia Pathway graduation is set for May 18 at 7 p.m.
Ethan Armendariz
When he's not working or going to school, Armendariz likes to study math, physics, psychology and biology. He has been accepted at Barrett Honors College at Arizona State University and University of Southern California.
School: Sequoia Pathway Academy
Years in Maricopa: 3
Originally from: Wasilla, Alaska
Career goal: Pediatric physician for Doctors Without Borders
Proudest accomplishment: Moving away from my parents at 16 to pursue my education while maintaining my grades, 35 hours a week at work and all my extracurriculars.
Moving forward: I plan to attend medical school at NYU or Stanford after my undergraduate degree in an engineering field. Following this I would like to take my education and training to families in need across the world while traveling to impoverished countries and making an impact in the lives of the youth who have yet to see life without suffering.
---
Joycelyn Cabrera
Accepted to Walter Cronkite School of Journalism at ASU, Cabrera made scheduling choices to be involved only in journalism-related courses at MHS and has interned during the past year at InMaricopa.com to gain real-world experience.
School: Maricopa High School
Years in Maricopa: 13
Originally from: Yuma
Career goal: Journalist
Proudest accomplishment: I would say I am most proud of having my writing published in the local magazine and doing my first real broadcast, which was aired to the community. I have built a very strong resume and have developed many relationships with various members of the community because of the networking required for these articles.
Moving forward: I plan to study at the Walter Cronkite school and participate in more internships at the university. From there, I'll be able to decide what specific aspect of journalism I want to pursue and continue
into that field.
---
Edgar 'Harrison' Edmondson IV
Edmondson is president of the MHS chapter of DECA and has participated in summer programs such as ASU's Fleischer Scholars Program, which helps high school seniors explore W. P. Carey School of Business.
School: Maricopa High School
Years in Maricopa: 3
Originally from: Superior
Career goal: Supply chain manager
Proudest accomplishment: The accomplishment I am most proud of is oddly not being my DECA Chapter's president, but the award that I received that started the journey that has taken me to where I am today. During my sophomore year, I was awarded the Emerging Leader Award by my DECA Advisor, Mrs. Bernadette Russoniello, an award given to a select few students in the Marketing I classes that showed outstanding leadership potential. It is because of this award that I made the leap to lead students and give back to an organization that has done so much for me, without it I would not be where or who I am now.
Moving forward: I am pursuing a Bachelor's of Science in Supply Chain Management and another in Management at ASU's W. P. Carey School of Business beginning this fall. During college, I hope to gain work experience by getting various internships with companies in the business field, expand my network to have the connections needed to go where I wish to go in life, join clubs, and of course have fun!
---
Fernanda Garcia
Garcia has been in CAVIT's veterinary assisting program and competed in a Health Occupations Students of America (HOSA) veterinary competition to prepare for her studies in animal health.
School: Sequoia Pathway Academy
Years in Maricopa: 2
Originally from: Phoenix
Career goal: Veterinarian or biologist
Proudest accomplishment: I am proud of the 33 college credits I have earned at CAC as a high school student, the $10,000 scholarship I earned from ASU, being a member of our school's National Honor Society, being CAVIT's HOSA president and my straight A's throughout high school.
Moving forward: I plan on working in an animal clinic while going to ASU for my bachelor's degree. From there, I will apply to vet school or pursue a master's degree in biological sciences.
---
Alessandro (Giovanni) Hernandez De La Peña

Hernandez is the salutatorian of the MHS senior class. His AP classes include chemistry, giving him a foundation in pharmaceuticals, which he wants to make his future. He will attend the University of Arizona and its Honors College.
School: Maricopa High School
Years in Maricopa: 6
Originally from: Eastvale, California
Career goal: Pharmaceutical scientist
Proudest accomplishment: My naming as a National Hispanic Scholar was definitely one of my proudest moments, and it has opened up to me many opportunities, such as those in scholarships and admittance.
Moving forward: I plan to attend the University of Arizona and pursue either an undergraduate degree in biochemistry or later a PharmD. Pursuing a further education at a graduate school is also something to be kept in mind while working toward a successful career in science and medicine.
---
Dylan Hill
Nominated for two military service academies, Hill has become involved in serious responsibilities during her high school years, including leadership of the city's Youth Council and the MHS Air Force Junior ROTC program. She intends to foster her leadership skills in college to prepare for life in the military and accepted an appointment to West Point.
School: Maricopa High School
Years in Maricopa: 11
Originally from: Chandler
Career goal: Serve in the U.S. military
Proudest accomplishment: I have received the National NROTC Marine-option scholarship valued at over $180,000 and have received a service academy appointment.
Moving forward: I plan on attending college in the fall, then continually progressing through taking on leadership roles and increasing my physical fitness so I can become more prepared to lead others after I graduate.
---
Christiana Holguin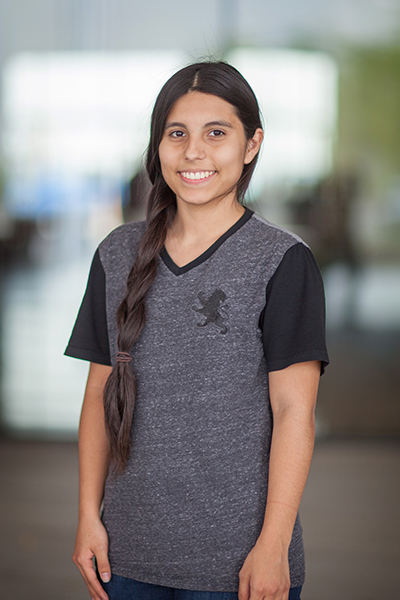 Holguin is headed to Villanova, where she intends to continue her study of English literature in hopes of becoming a professor. To prepare, she has tutored English, volunteered at the library and wrote an article about a local veteran for the Veteran's Heritage Project.
School: Sequoia Pathway Academy
Years in Maricopa: 12
Originally from: Gilbert
Career goal: English professor
Proudest accomplishment: I'm proud of the fact that I was invited to give a speech at the TEDx (Technology, Entertainment and Design experiences) event as a sophomore.
Moving forward: I was accepted to Villanova University, and I intend to study English literature and pursue a doctorate.
---
Lindsay Hubbard
Hubbard is enrolled at ASU's Ira A. Fulton School of Engineering to study aerospace engineering in the fall. But first, in June, she will be competing in the Miss Arizona pageant.
School: Maricopa High School
Years in Maricopa: 12
Originally from: Phoenix
Career goal: Aerospace engineer at NASA
Proudest accomplishment: I am most proud of my title as Miss Pinal County, a part of the Miss America Organization. With this title I get the chance to have a voice and expand my platform 'Starting at the S.T.E.M.' Sharing my passion and dreams with others is not something I thought I would be able to do so early in my life. It's an amazing feeling to be so young and doing something so big. In June of 2018, before the start of my freshman year at ASU, I will be competing in the Miss Arizona pageant. I hope to make my County and the city of Maricopa proud by bringing home the title Miss Arizona.
Moving forward: I plan to achieve my career goals by continuing the process of applying for scholarships to make my college and future stress free. I want to focus on my first responsibility – being a student. I plan to continue to learn not just in the classroom but through my environment as well. Every day is a new experience and every day I have the chance to learn something new.
---
Porter Brigham Jones
Jones is the valedictorian of the MHS senior class and has accepted a full-ride scholarship to NAU. He studies languages and ancient civilizations when not focused on service, art and theater.
School: Maricopa High School
Years in Maricopa: 16
Originally from: Chandler
Career goal: Archaeologist/linguist, husband and father
Proudest accomplishment: Accomplishments are all relative, depending both on how you and others view them.  Still, the things that have given me the most pride in my life so far have to include some things that naturally come from a school environment, like learning how to get along with everyone you meet (and still keep your opinion), learning time management, and most importantly, making so many outstanding and phenomenal friends who inspire me to do better!  I also have a great sense of satisfaction that I have been able to vastly improve my art skills from what they were before, maintain a high GPA, land some larger roles in theatrical performances in the community, and have the opportunity to enter many competitions in the county, state, and nation!  Service has also been a highlight in my time in high school, and I'm thankful that there are many chances for youth to help others and learn some humility—something that I and everyone else could use a hefty helping of in a self-centered world.
Moving forward: Well, one should never count their chickens before they're hatched — and life is notorious for its curveball pitches — but I feel that I have a pretty straightforward plan for my life so far!  I will be spending my first year of college attending Northern Arizona University, where I plan to get some preliminary Archaeology and Language classes out of the way, taking time to also revel in the electives.  Soon after, however, I hope to have saved enough money to go on a mission for the Church of Jesus Christ of Latter-day Saints!  After that I'll move on to another chapter in my life.  I'll get my degree, get married, settle down, raise a family, and find something I enjoy doing and that will benefit a lot of people.  If I can, I hope to educate the public on the wonders of history, help out people in need, and support my country.    On the side I might also make a hobby/career of cartooning and writing, since both greatly appeal to me.  Of course, none of this would be possible without my family, friends, and God, so thanks!
---
Britney Montgomery
Montgomery has been a mainstay of the MHS Theatre Company and has earned a musical theater scholarship with her "superior" vocal abilities, honed in statewide and international competitions.
School: Maricopa High School
Years in Maricopa: 4
Originally from: Freeport, New York
Career goal: Broadway performer/theatre teacher
Proudest accomplishment:  I am most proud of being awarded the Amy Bennett Foundation Scholarship. To receive something that means so much to someone is really an honor.
Moving forward: I plan on going to University for musical theatre and secondary education and get my teaching degree and also a degree in theatre.
---
Haley Petersheim

Petersheim plans to study political science at ASU with a broader goal of civic leadership. As part of the nonpartisan Junior State of America, she has learned how to be an effective civic participant and debater. She is on Maricopa Youth Council and attends school site council and district budget meetings.
School: Maricopa High School
Years in Maricopa: 12
Career goal: To work in legislation
Proudest accomplishment: I am most proud of the fact that I can see the students from my club stand up and try making changes in our community. I am also proud of the award that I received from the Daughters of the American Revolution for my civic engagement and interest in government.
Moving forward: I plan on applying for/getting internships at the capitol and making connections with the congressmen/women to be able to get as much experience and be as involved as I can.
---
Jalen Reyes
Reyes intends to earn a university degree in dance education and was recently accepted into a Silver-Medal competitive Urban Dance team, The Elektrolytes.
School: Maricopa High School
Years in Maricopa: 6
Originally from: Greeley, Colorado
Career goal: Choreographer and dance studio director
Proudest accomplishment: Joining the Elektrolytes is definitely one of my greatest accomplishments. The discipline of dance is very subjective and to be accepted to such a prestigious team is validating. It is not everyday that the winners of America's Best Dance Crew accept dancers onto their competitive team.  I have only been dancing for four years but it something that I take very seriously because it can transcend speech, send a message, and impact a person on an indescribable level. This is what I aim to do as a choreographer: to inspire and to push others to grow.
Moving forward: After receiving my degree in dance education, I plan on traveling to New Zealand to audition for The Royal Family, one of the best and biggest dance teams in the world. This is more than just another team, however. The Royal Family have worked with some of the biggest names in pop culture such as Justin Bieber, Jason Derulo, Nicki Minaj, etc. With my experience and training, I will then be in a position to share this with and mentor the next generation of performers in a dance studio of my own. By owning a studio, I can continue to work in the dance world long after my performing days as a teacher, director, and coach.
---
This story appears in the May issue of InMaricopa.
Below: Photos and names supplied by Maricopa High School. Click on photos to enlarge.
---
Below: Photos and names supplied by Sequoia Pathway Academy. Click on photos to enlarge.
Sequoia Pathway Graduates 2018