When fire struck twice in less than 24 hours at a home in Senita, neighbors, friends and strangers moved quickly to help the family.
The house at North Lousandra Drive and West Estrada Street was destroyed after a Thursday fire, extinguished by firefighters, rekindled overnight Friday.
Celina Marshall, who lives in Tortosa, appealed to the community in a Facebook post Friday morning to help the family – four adults and nine children – replace some of the belongings they lost.
"Hello fellow Maricopa residents! We need your help in a BIG way," she wrote. "A Maricopa family needs us to rally together. A fire ravaged their home today and they are needing help."
Marshall noted a specific need for clothes and toiletries, listing sizes for each person in the home:
Female adult, size 12/14 bottoms, xl tops; size 7 1/2 shoes
Male adult, size 38/32 pants, xl top; size 10 1/2 shoes
Female adult size, S top, S bottoms; size 7 shoes
Female adult size, 12 bottoms, XL tops; size 9 shoes
Girl size 14/16; shoe size 6 1/2
• Girl size 10/12; shoe size 5
• Girl size 5/6; shoe size 11
• Boy size 14/16; shoe size 6 1/2
• Boy size 10/12; shoe size 6 1/2
• (2) boys, size 7/8; shoe size 3
• Boy size 6/6x; shoe size 3
• Boy size 4/5; shoe size 11
The response was immediate.
"I have girls' clothes. Where can I drop off?" came one reply.
"I just moved to the neighborhood," went another, "and have a lot of extra things I would like to donate."
Marshall knows mutual friends of one member of the family and her son attended school where the mother of the family taught, but said she acted to lend a hand for another reason.
"Helping do something bigger than yourself is what humans are supposed to do," she said.
Guadalupe Coffman donated because she knows the tragedy and heartache that fire can bring.
In September 2018, fire struck the home her family was renting in Tortosa. Her oldest daughter, Angel, died in the fire, but Angel's baby boy as well as her other daughter and her boyfriend escaped the flames. The baby suffered burns on his head and shoulders, Coffman said.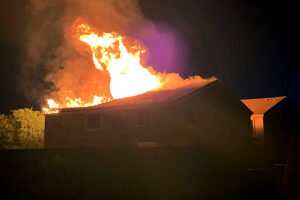 "In that hard time, not knowing what to do, the community came together and donated clothes and food and toys and that touched my heart so much!" said Coffman, who now lives in the new Glennwilde Raintree community. "So when I saw the post about the family that lost everything in a fire I wanted to help give back, like the community helped me!"
She offered boys' clothing and shoes, plus toys and household items.
Three collection points have been set up for donations. Clothes, toiletries and smaller items can be dropped Marshall's home at 36336 W Alhambra St. in Tortosa or at Honeycutt Coffee. Larger furniture and houseware items can be dropped off at The Arizona Storage Company at 40675 W. Honeycutt Road. (Donors can pull up, go inside and let Joy know you are dropping off donations. She will open the gate to permit access to a locked Unit 3006. The code to that lock is GATE. Please do not leave any food or hazardous items.)
Organizers have also set up a Venmo account – @Denae-Waite – to accept cash donations to help purchase food, toiletries and undergarments. They also need assistance in the collection of heavy furniture.
The cause of the initial fire as well as the rekindled blaze is under investigation, according to Maricopa fire officials.