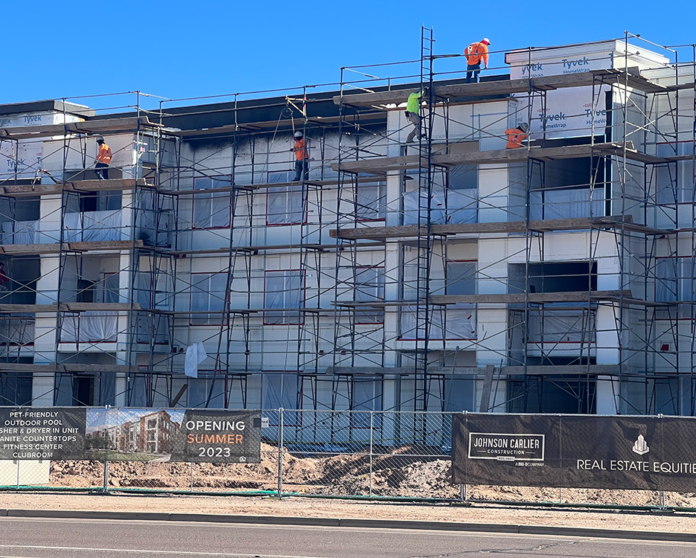 The initial phase of the city's first all-affordable housing apartment project is nearly filled, developer and manager Real Estate Equities said.
In an email to prospective residents, REE said only 3-bedroom units remain available in the 48-unit first phase of the Copa Flats apartments at 17485 N. Porter Road. Phase 1 began leasing Dec. 22. Move-ins are to begin March 24.
The 72-unit second phase will begin leasing Jan. 18.
The 312-unit community features one-, two- and three-bedroom units. According to the leasing website, a one-bedroom apartment with 647 square feet will rent for $994 a month. A two-bedroom unit (930 square feet) will rent for $1,192 and a three-bedroom unit (1,238 square feet) will rent for $1,377.
REE said the community will be leased in five phases through December 2023. Community manager Yolanda Garcia said the phased move-in dates and number of units are:
Phase 1: March 24 – 48 units.
•         Phase 2: May 18 – 72 units.
•         Phase 3: July 10 – 48 units.
•         Phase 4: Sept. 26 – 72 units.
•         Phase 5: Dec. 21 – 72 units.
As part of the federal government's Section 42 affordable-housing program, apartments at Copa Flats are income-restricted based on unit and household size.
The company said affordable housing designation does not minimize the quality of the project.
"Copa Flats will offer the level of amenities and finishes you would find in new market-rate developments and will also feature many sustainable and energy-efficient design features, such Energy Star appliances," said Eric Omdahl, Real Estate Equities' development partner. "We are thrilled to provide much-needed affordable housing and to become part of a flourishing community in Maricopa."
The community features amenities that include a fitness center, yoga room, clubroom with kitchen, swimming pool, dog run, playground and grilling stations. Interiors are complete with high-quality finishes, such as granite countertops, stainless-steel appliances, in-unit washer and dryer, and vinyl-plank flooring.
"We are excited to provide a lower-cost housing option for those who have recently been priced out of market-rate rental properties that have seen substantial increase in rental rates across the Valley," Omdahl said.