The Arizona Department of Transportation is studying alternatives for improving traffic flow and safety at the intersection of Interstate 10 and State Route 347/Queen Creek Road as part of a larger traffic study in the area.
The interchange is of huge importance to Maricopa residents. A large percentage of the city's population currently commutes through it to the Valley daily for work.
Those commuters sometimes sit through two or three changes of the left turn signal to get from SR 347 onto I-10 West into Chandler, Ahwatukee and Phoenix during the morning commute. They run into the same problems each afternoon at the same interchange waiting on I-10 to get back on to 347.
One of those alternatives includes a diverging diamond interchange, among two other ideas, as ADOT spokesman Doug Nintzel explained.
"ADOT is conducting an Environmental Assessment and Design Concept Report (EA/DCR) as part of a study of potential improvements along I-10 between State Route 387 in the Casa Grande area and the area approaching the Loop 202 SanTan Freeway in Chandler," said Nintzel. "The I-10 interchange at SR 347/Queen Creek Road is part of that assessment."
The agency is evaluating alternatives that can help prevent backups onto I-10 eastbound toward Tucson in the afternoons when eastbound traffic flow is heaviest. They also are looking at alternatives to help avoid the chronic backups in the left turn lane off SR 347 north onto I-10 West.
"Alternatives under consideration include maintaining the existing condition (the No Build Alternative) as a diamond interchange, and two proposed new options," Nintzel said. "(Those are) a diverging diamond interchange and a displaced left turn interchange. Since this is an active study, we want to hold off on promoting any specific alternative for this location. Information is still being gathered and a decision on a recommended alternative is anticipated in fall 2022. Each of the 'build alternatives' could provide benefits related to safety and traffic movement."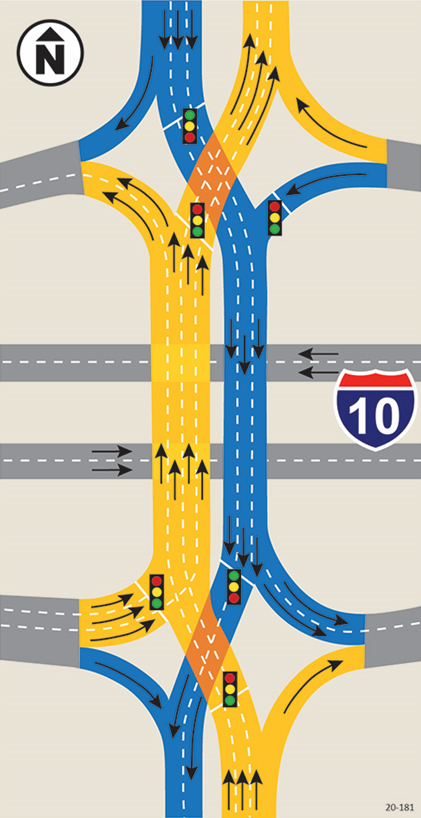 According to ADOT, a diverging diamond interchange is a type of freeway interchange in which the two directions of traffic on the non-freeway road cross to the opposite side on both sides of the bridge at the freeway. It is unusual in that it requires traffic on the freeway overpass (or underpass) to briefly drive on the opposite side of the road from what is customary for the jurisdiction. The crossover "X" sections can be traffic-light intersections or one-side overpasses to travel above the opposite lanes without stopping, the latter of which allows nonstop traffic flow when traffic is relatively sparse.
The ADOT website says diverging diamonds have the added benefit of being a cost-effective way to improve traffic flow.
"A diverging diamond can be constructed for limited cost at an existing straight-line bridge by building crisscross intersections outside the bridge ramps to switch traffic lanes before entering the bridge. The switchover lanes, each with two side ramps, introduce a new risk of drivers turning onto an empty, wrong-way, do-not-enter, exit lane and driving the wrong way down a freeway exit ramp to confront high-speed, oncoming traffic. Studies have analyzed various road signs to reduce similar driver errors."
Nintzel recommended two websites for those interested in more about the study or diverging diamond interchanges. For information on the I-10 Wild Horse Pass corridor study, visit http://i10wildhorsepasscorridor.com/resources.html; for diverging diamond information go to: https://safety.fhwa.dot.gov/intersection/crossover/fhwasa14039.pdf.