A celebration of life gathering is scheduled for Friday for the Maricopa Unified School District consultant and her two children who died in a horrific crash last week in Phoenix.
Courtney Lonergan, who began working with the district as a master strategic facilitator in 2018, was killed along with her son Ali Geer, 18, and daughter Almira Geer, 16, in the collision.
Lonergan, of Phoenix, is survived by her 13-year-old daughter Aracelli, who was not in the car at the time of the accident.
Lonergan was remembered this week by a close friend.
"She was a wonderful person who was passionate about her projects," said Andrea Jenkins, a Maricopa resident who teaches drama and choir at Desert Wind Middle School.
She has been friends with Lonergan since their sons were in first grade together, long before Lonergan joined MUSD. Lonergan was a bridesmaid in Jenkins' wedding.
Jenkins wrote a letter to Lonergan after her death to express her feelings.
"You were beautiful, kind, caring, positive, and you wished the same for others," she wrote. "Your words and love will continue even though you have gone. Thank you for imparting to others that it's a blessing to uphold, to stand up and be bold."
"So many lives have changed because of you," she continued. "Communities, families, friends, colleagues, and strangers will remember the times you not only asked for their thoughts but asked them to share their hopes for a future that could impact and change the world around them and then helped them to put it to fruition.
Lonergan was an applied cultural anthropologist and professional facilitator of participatory processes. She taught advanced anthropology classes at Arizona State University.
Working with MUSD since 2018, she facilitated discussions with various stakeholders to help determine educational metrics, address systemic barriers and build camaraderie between the district and broader community. She also helped on the strategic planning of the second high school now under construction.
MUSD superintendent Dr. Tracey Lopeman said Lonergan had a gift.
"We are profoundly sad," she said. "I am grateful that Courtney ushered us through the strategic planning process and that we continue to benefit from her heartfelt commitment to human kindness, creativity, and wisdom. Through her guided collaboration and consensus, she harnessed group wisdom and creativity. That was her gift."
"So many organizations and districts in this state, and nationally, have benefited from her talent and belief in the collective wisdom and creativity of a group committed to a common goal," Lopeman added. "She truly knew how to unite people. I will miss her personally and we will be hard-pressed to fill the void professionally."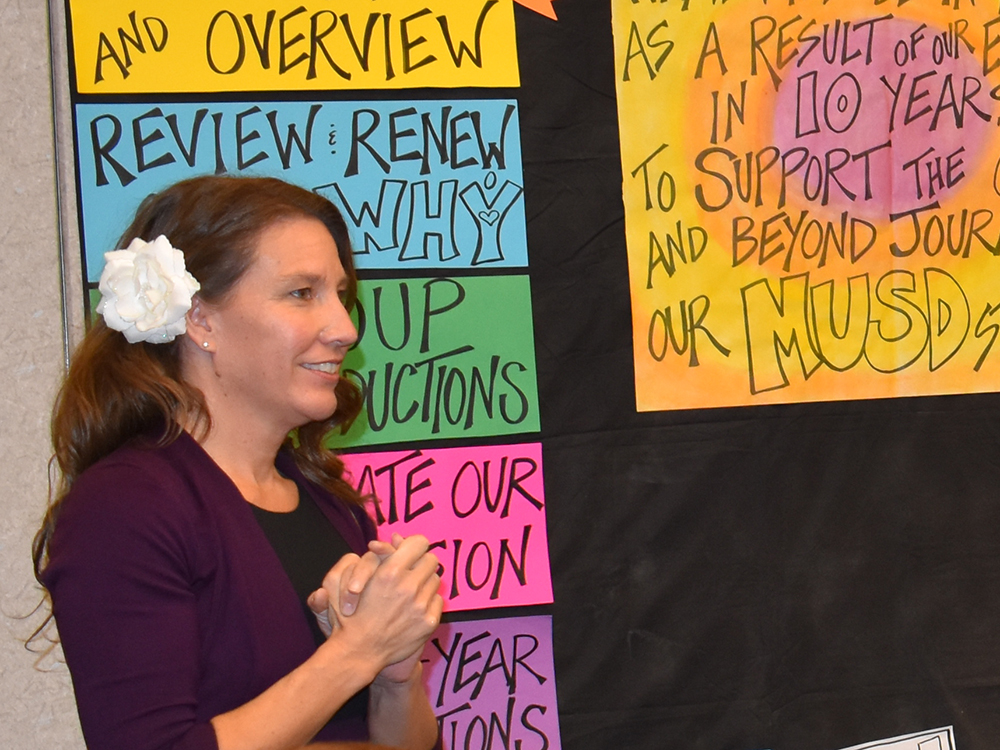 Lonergan and her two children were killed last Thursday in a five-vehicle collision involving a Phoenix bus. The crash, which also injured seven others, was caused by a driver in a stolen car traveling in excess of 90 mph at impact, authorities said.
"She was a fierce, thoughtful and endlessly positive advocate for all peoples and worked daily to activate agency, autonomy and open communication within all groups of people," Courtney's brother, Joey Grether, said. "One of her mottos was 'break the pattern,' as in learn to reshape your own destiny."
A sign in her backyard had a similar theme, he said.
It reads: "I can change. I can live out of my imagination instead of my memory. I can tie myself to my limitless potential instead of my limiting past. I can become the author of my destiny."
Friday's celebration for Courtney, Ali and Almira will celebrate their contributions to community and culture. It will be held from 6-9 p.m. in the Student Union at Central High School, 4525 N. Central Ave., Phoenix.
"We will do our best to acknowledge, respect and celebrate their many contributions to our reality," reads a Facebook posting for the event. "Come help. Share stories, thoughts, prayers, laughs, and tears … Bring a plant/take a plant (potted plant exchange) – because she loved her plants!"
Two separate GoFundMe campaigns are raising money for funeral expenses and provide financial assistance toward a fund for Aracelli. One campaign with a goal of $50,000 has raised more than $76,000. A separate fund for Aracelli with a goal of $25,000 has raised $28,000.