The Arizona Department of Transportation (ADOT), in partnership with the Gila River Indian Community, Maricopa Association of Governments (MAG), and in coordination with the Bureau of Indian Affairs, has initiated a study for a proposed traffic interchange at Riggs Road and State Route (SR) 347 to address traffic congestion and safety.
This study follows a study conducted by MAG on the SR 347 Corridor, which identified the need to separate SR 347 from Riggs Road traffic on a new bridge. The study will evaluate alternatives for the interchange design and identify the preferred alternatives in a Design Concept Report and environmental document.
Purpose
Provide free-flowing traffic movements along SR 347 as it passes Riggs Road.
Reconstruct the existing intersection to separate SR 347 from Riggs Road traffic on a new bridge.
Need
Reduce traffic congestion and travel times.
Reduce crash rate and improve safety.
Enhance regional mobility.
Alternatives Being Considered
The study will evaluate a range of interchange alternatives to separate SR 347 from Riggs Road traffic on a new bridge.  Alternatives developed will consider the following type.
This study will consider various factors in the selection of a preferred alternative including:
GRIC, agency and public input.
Minimizing right-of-way, allottee lands, environmental and utility impacts (including the GRICUA substation).
Minimizing impacts to traffic during construction.
Future Community plans for development.
Future 2050 traffic operations.
Engineering considerations.
Estimated construction cost.
Schedule
The study is expected to continue through summer of 2025. If a new build alternative is selected, the project is anticipated to advertise for construction in late 2025.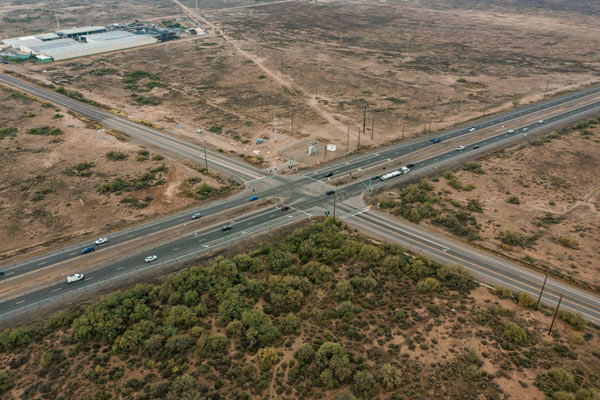 Public Input
The public is invited to provide input during the current scoping phase of the study through June 30, in any of the following ways:
There will be additional opportunities to provide input, including public meetings, as the study progresses.
Read More about this project and its funding at Riggs Road Overpass – InMaricopa
Disclaimer: This article is based on information available at the time of writing and is subject to change as the study progresses.