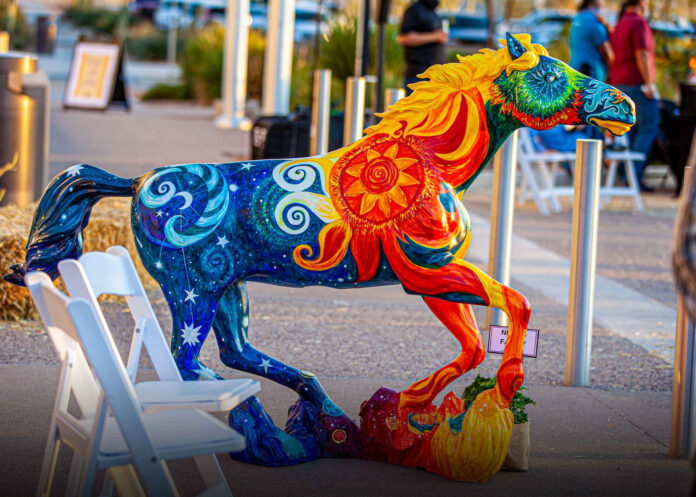 "Maricopa Wild Horses," an arts initiative by City Manager Rick Horst, was unveiled Thursday at City Hall. Ten sculptures of horses decorated by local artists were presented to the public. Over the next six weeks, the pieces of art will be placed at locations around the city.
There were 49 designs submitted by 28 artists submitted for the program. In conjunction with the Cultural Affairs and Arts Advisory Council, the city selected designs by 10 artists.
With additional rounds to follow, there will eventually be 50 or more of the horse sculptures in locations around town.
Here are the 10 works selected for the first round:
Copper Turquoise Skies
Artist: Kimberly Mask
Sponsor: Be Awesome Coalition
Location: Maricopa Elementary School
Celestial
Artist: Bonnie DelTurco
Sponsor: The Ray Nieves Family
Location: Copper Sky Recreation Complex
Party Horse
Artist: Cindey Reyes
Sponsor: City of Maricopa
Location: Pacana Park
Desert Freedom
Artist: Riley Burke
Sponsor: City of Maricopa
Location: John Wayne Parkway at Edison Road
Pieces of Our Past Windows to Our Future
Artist: Kristal C. Coles
Sponsor: Englewood Group
Location: Oasis at the Wells
Friends of the Maricopa Library
Artist: Cindy Koontz
Sponsors: Philip "McD" Hartman Family, Oliver and Hermina Anderson, and David and Barbara Brady
Location: Maricopa Library and Cultural Center
Patriot
Artist: Kristal Melody Hoeh
Sponsor: Daughters of the American Revolution
Location: Maricopa police substation, Copper Sky
Worth Crowing About
Artist: Susan E. Cameron
Sponsors: Friends and Family of Anthony Smith
Location: Pinal County Offices on Wilson Avenue
Maricopa Rising
Artist: Mai May Tallwing
Sponsors: Rose Law Group
Location: Maricopa City Complex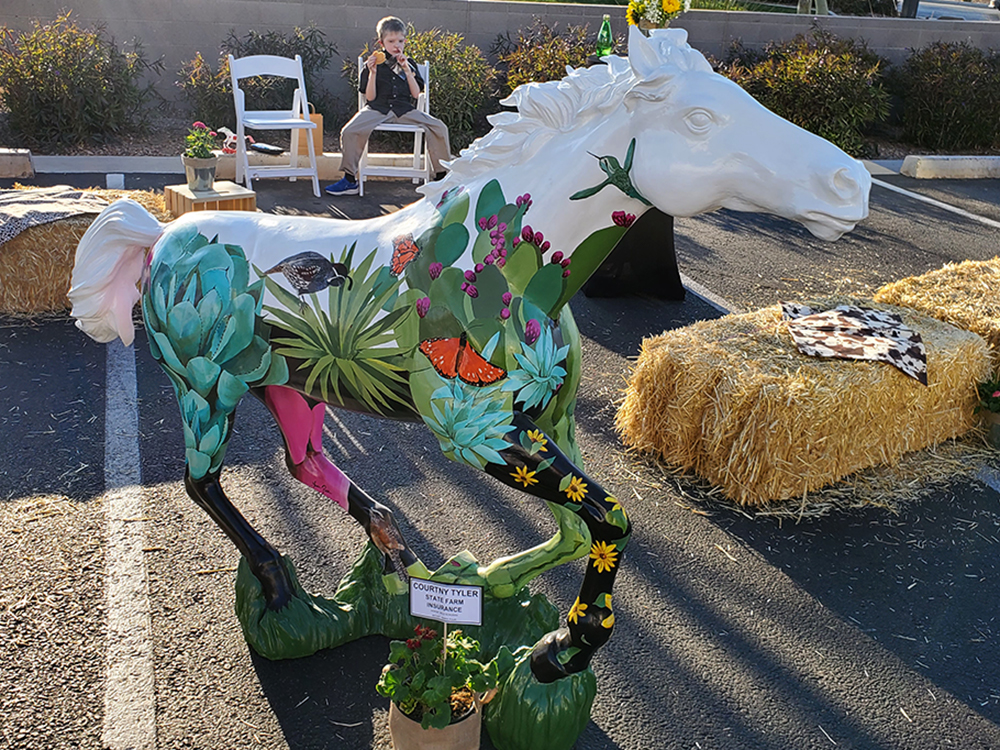 Wild Sonoran
Artist: Maria Pour
Sponsors: State Farm Courtny Tyler
Location: Maricopa Grand Professional Village, Smith-Enke Road