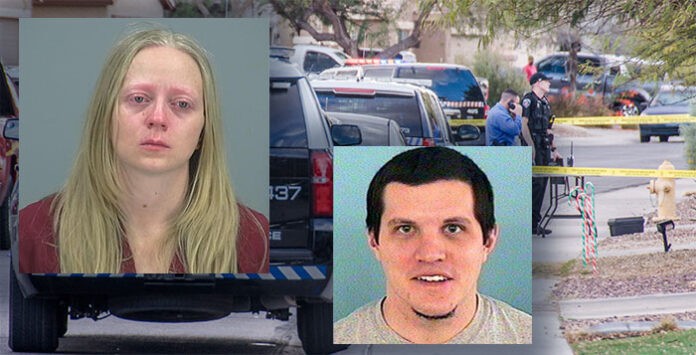 Kathryn Sinkevitch will spend the rest of her life in prison.
Thursday, Pinal County Superior Court Judge Kevin White handed down a "natural life" in prison sentence to Sinkevitch after she was convicted May 7 of the first-degree murder of Michael Agerter on Dec. 16, 2016.
With a sentence of natural life in prison, she is not eligible for commutation, parole, work furlough, work release or release from confinement on any basis.
It is one of the harshest penalties in the State of Arizona, second only to the death penalty.
Agerter, her ex-boyfriend, was shot and killed in the garage of his rental home in Rancho El Dorado. The two lived separately but had an infant son together.
Prosecutors maintain the murder occurred because Sinkevitch did not want to share custody of the child with Agerter and the two were involved in a court battle, including DNA testing. Agerter, 31, was murdered just hours after submitting DNA samples at LabCorp.
After a little more than a day of deliberations, the jury handed down its decision.
Sinkevitch, 35, appeared for her sentencing Thursday morning wearing a maroon jail uniform, with her long blond hair down and pulled back in a pony tail.
The victim's mother and father, who live in Ohio, spoke to the court before her sentence was announced.
Michael's father, Mark Agerter, said the murder of his son was one of the most cowardly acts he has seen in his 60 years on the planet.
"For 35 years, I have taught and coached high school kids and had many opportunities to speak. I have prepared a script though it will not be as eloquent or as colorful in vocabulary as he (Michael) might have done," Mark said.
He said that since Sinkevitch was found guilty on May 7, many people have "congratulated" him on the verdict. He said the word congratulations is not the right word for the situation. He said Sinkevitch's actions may not have created a circumstance where there could be a winner.
"The end of Mike's life did not fit the type of person that he ever was," his father said. "A few days following (his murder), there were comments on social media from Ms. Sinkevitch's family members that Mike got exactly what he deserved. This is very disconcerting and did not come from someone who knew Mike."
He said he has never found anyone who knew Michael that would describe his son in any other way than as a true and sincere person.
As his father spoke, Sinkevitch just sat silently and stared at the back of his head.
"There was absolutely no reason that the events that occurred on Dec. 16, 2016, should have ever happened," Mark Agerter said. "Mike, from a young age, tended not to be fearful of anything. It showed in everything he did from climbing trees that were too tall as a kid to his efforts playing college football."
Two armed, female sheriff's office guards stood very close to Sinkevitch as Agerter spoke.
"Mike truly wanted things to be right for his son," he said. "After all, he loved children. Unfortunately, he was never allowed to meet his son. There is a reason that we must have prisons. Someone who would act in a very unconscionable and cowardly manner to take a life, like the one taken in that garage in Maricopa, Arizona, on Dec. 16, 2016, must not have the freedom to make that decision ever again."
He thanked the Pinal County prosecutors in the case, led by Shawn Jensvold and David Ahl and Christine Forbes. He also thanked the Maricopa Police Department for all their hard work.
"Kathryn Sinkevitch may have chosen to take Mike's life, but she will never kill his spirit. His spirit lives on forever. His family will be sure that the little boy that we call Christopher will be the most loved little boy on the planet," Mark said referring to his grandson, of whom Michael's parents have custody.
Michael's mother, Leslie Agerter, also addressed the court.
She told White about her murdered son and his relationships to his siblings
She spoke about her son's deep relationship with siblings and family. She talked about her son's many selfless acts of kindness to family, friends and total strangers.
She also spoke about how her daughter was on the phone with Michael when he was murdered.
"She was his friend but most of all he was her big brother," Leslie said. "She listened to Michael utter his final words and take his dying breath after Sinkevitch ambushed him in his garage."
She said no one is perfect and Mike was no exception.
"He may not have been perfect, but he was a gentleman," she said. "At the first incident of violence against him, he should have been out the door. Instead he stayed. He gave me a whole laundry list of reasons why he shouldn't leave the relationship. They all revolved around her, and him wanting to make sure she could take care of herself."
Leslie Agerter said at first her son wouldn't leave Sinkevitch because she didn't have a job and he was worried she couldn't support herself. After she got a job, she said Michael stayed in the relationship to make sure she could get to work because she didn't have transportation.
She said Sinkevitch used her son's car to get back and forth to work while he stayed home and worked.
"And finally, when he thought she could be self-sufficient, and he was ready to leave, she became pregnant," she said. "We are left to raise our son's son. We decided to call him Christopher in honor of one of Mike's longest valued friendships. Her rights as a parent have been legally terminated. My son is gone. How are we to explain to his son her actions when he is old enough to understand? I hope I am strong enough and given the wisdom when that inevitable day arrives."
Both the prosecutors and defense attorney Bret Huggins agreed there is little choice but to give Sinkevitch a natural life sentence.
Huggins told the court he had already filed an appeal and asked to be withdrawn as defense council for Sinkevitch. He asked the court to appoint another defense attorney to handle the case in the future.
White asked Sinkevitch to stand and asked if she had anything to say to the court and she only replied, "No."
The judge then sentenced her to serve the rest of her natural life in prison with credit for already serving 896 days in custody.
A Curious Coincidence
Leslie Agerter said there is an ironic twist to the murder of her son, something she learned after Sinkevitch was convicted of the murder.
"In a roundabout way it brings everything full circle," she said. "In December of 1984, Mark and I drove his sister to her new home in Houston, Texas. We decided to attend the Blue Bonnet Bowl between TCU and West Virginia. We watched the West Virginia quarterback lead his team to an astounding victory. On that same trip, I discovered I was pregnant with Michael and here today, 34 years later, we stand before that same quarterback who now presides over the state's astounding victory over Sinkevitch."
The quarterback of West Virginia at the Blue Bonnet Bowl in 1984 was Judge Kevin White.