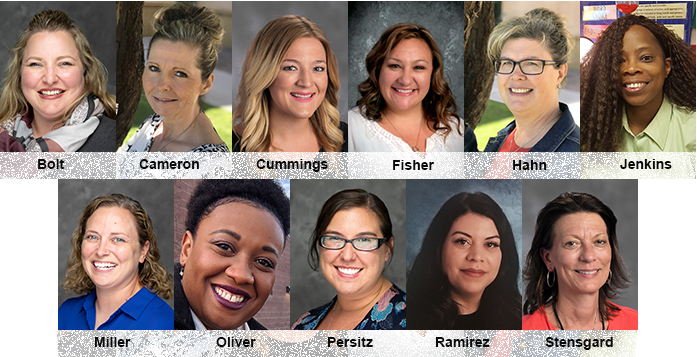 Maricopa Unified School District was informed in December 11 teachers achieved National Board Certification.
Certification consists of four components

An assessment of the teacher's content knowledge.
A portfolio showcasing student work samples and how the teacher provides feedback and reflects on student learning.
Two videos of the teacher in the classroom, showing lessons taught and the interaction with and among students demonstrating the depth of teaching and learning.
A portfolio of "reflective" work demonstrating what the teacher does outside the classroom that translates in the classroom, from collaboration to using assessments to inform instruction and learning.
Often referred to as the "gold standard" of achievement, NBCT certification asks educators to demonstrate standards-based evidence of the dynamic instruction that takes place in their classrooms. Each teacher spent time evaluating their own instructional strategies and worked purposefully to adjust their practices to better meet the needs of their students.
MUSD's newest National Board Certified teachers are:
Butterfield Elementary School
Inez Ramirez has been an employee with the school district since 2007 and has been at Butterfield since the 2012-13 school year. She is a first-grade structured English immersion (SEI) teacher.
"Mrs. Ramirez is an amazing teacher who challenges herself, her students and others to improve and succeed. She is always looking for ways to help our school be the best it can be. She is an essential member of our Butterfield staff." ~ Principal Janel Hildick
Maricopa Elementary School
Janet Stensgard has been in the district since 2004 and has taught at Maricopa Elementary for the past seven years. She is an instructional coach/specialist providing resources and instructional support to fellow teachers.
"Mrs. Stensgard strives to impact our school culture on a deeper level ensuring scholars and teachers are successful. Janet supports teachers by working to create professional development based on their needs and the needs of our scholars. She is an asset to our school's growth and success as a Leader in Me Lighthouse school." ~ Principal Jennifer Robinson
Taryn Cummings began her career with MUSD in 2011. She has taught at Maricopa Elementary School for seven years. Currently, she teaches fifth grade.
"Taryn seeks out new strategies and feedback to help support her scholars and their learning, pushing on them to provide evidence and explain their thinking. She also openly shares and collaborates with other colleagues elevating teaching and learning across our campus. She is an asset to our school's growth and success as a Leader in Me Lighthouse school. An outside the box thinker, she challenges herself and others to be the best every day." ~ Principal Jennifer Robinson
Maricopa High School
Aidan Balt is an eight-year veteran at Maricopa High School. This year she is teaching ninth-grade Honors English Language Arts (ELA) and Advanced Placement (AP) Literature.
"Ms. Balt is a shining example of support and collaboration and shares her expertise with her peers as a mentor and master teacher." ~ Principal Brian Winter
"I was in Ms. Balt's class in my freshman year. She was the best teacher I had ever had and going to her class was the highlight of my day. I learned so much from her and gained my love of language in her class. Ms. Balt completely deserves this certification and I'm not at all surprised that she got it." ~ Student Abby Poland
Jenn Miller has been committed to the district and MHS for 16 years. This year, she is teaching English 2 Honors and is a mentor and master teacher. Mrs. Miller is also a favorite of her students, and they lined up to share what she means to them:
"The best thing that Mrs. J. Miller has done for me is that she helped me accomplish my goals of becoming a better writer and reader in my life." ~ Alana Daniels
 "I have never had a teacher like her (in a good way) and I absolutely love being in her class. She is an amazing teacher. I learn something new every day, and not just about English. I feel privileged to be in her class." ~ Abby Poland
"The best thing about Ms. Miller is her sole dedication to seeing every child succeed in her class. She will look over the need of the student and help them individually to make certain that they do their best." ~ Hannah W. Paul Gindiri
"The best thing about J. Miller is that there was never a moment where I didn't think she cared. There was never a moment that I thought I wasn't good enough to be in her class. Even when I would get the slightest bit of doubt, she would tell me that I was enough. She never let me question myself. That's what the best thing about J. Miller is." ~ Hannah Bailey
Katherine Persitz has been a mainstay of Maricopa High School and the district for the past nine years. She teaches 11th and 12th grade ELA and Journalism and is an Arizona Master Teacher as well. You can tell she is making a positive impact on her students.
"Ms. Persitz impacted my education by really giving me the feeling that she cares about not only me but all of her students, and our personal lives." ~ Bryce Wildermuth
 "The best thing about Ms. Persitz is that she is always so caring and willing to help students. I love Ms. Persitz!" ~ Chayla Holloway
Maricopa Wells Middle School
Treva Jenkins is a 12-year veteran teacher and has spent every year at Maricopa Wells.
"Ms. Jenkins is a long-time staff member at Maricopa Wells Middle School, a district mentor, and she runs our Panther Ambassador program here at Wells. Her experience and understanding of all students is a great example of how to be an excellent educator." ~ Principal Thad Miller
Jennifer Cameron has been with MUSD for seven years and has called Maricopa Wells home for the last two.
"She is a district mentor who has an immense background in multiple areas of education. That experience and knowledge is what makes her so great for kids, while also being helpful to our entire staff here at Maricopa Wells Middle School." ~ Principal Thad Miller
Jacqueline Hahn has been with the MUSD for six years and has been part of the Maricopa Wells team for the last two.
"Mrs. Hahn is a part of our Leadership Team here at Maricopa Wells, while still heading up our Site Council committee on campus. Her educational and real-life experience allows her to apply those concepts in everyday practice for her students." ~ Principal Thad Miller
Pima Butte Elementary
Shelly Fisher has been an MUSD teacher 13 years and a teacher at Pima Butte for 12 years. Mrs. Fisher teaches third grade; however, she's also taught first grade and second grade, too.
"I appreciate Mrs. Fisher's dedication and commitment to do the best job teaching each and every day. Mrs. Fisher has high expectations for all of her students and strives to see that each student in her classroom succeeds." – Principal Randy Lazar
Staci Oliver has been a teacher for the Maricopa Unified School District for 12 years and joined the Pima Butte family 11 years ago. Mrs. Oliver teaches third grade and previously taught fourth grade.
"Mrs. Oliver praises her students often for a job well done and encourages her students to praise each other. She ensures that her students are engaged in her lessons and when she notices that a student may need more direct guidance and support, she takes the time to get a student back on track." – Principal Randy Lazar
---
This story appears in the January issue of InMaricopa.