Part toys-for-grownups, part engineering marvel and part art project, the model train layout fills an entire room of a Province home. More than anything, it is very personal nostalgia.
Jim and Patty Van Houten have created a miniature replica of Jim's hometown, Moberly, Missouri, and its environs. But, wait, the triple-decker layout also includes nearby towns of Glasgow and Clark and a re-creation of Durango, Colorado.
Five at a time, Wabash, GM&O and Missouri-Kansas-Texas trains run through the set, over bridges and through mountain gorges. By walking a visitor through the twists and turns of the layout, Jim Van Houten is really telling them the story of his youth.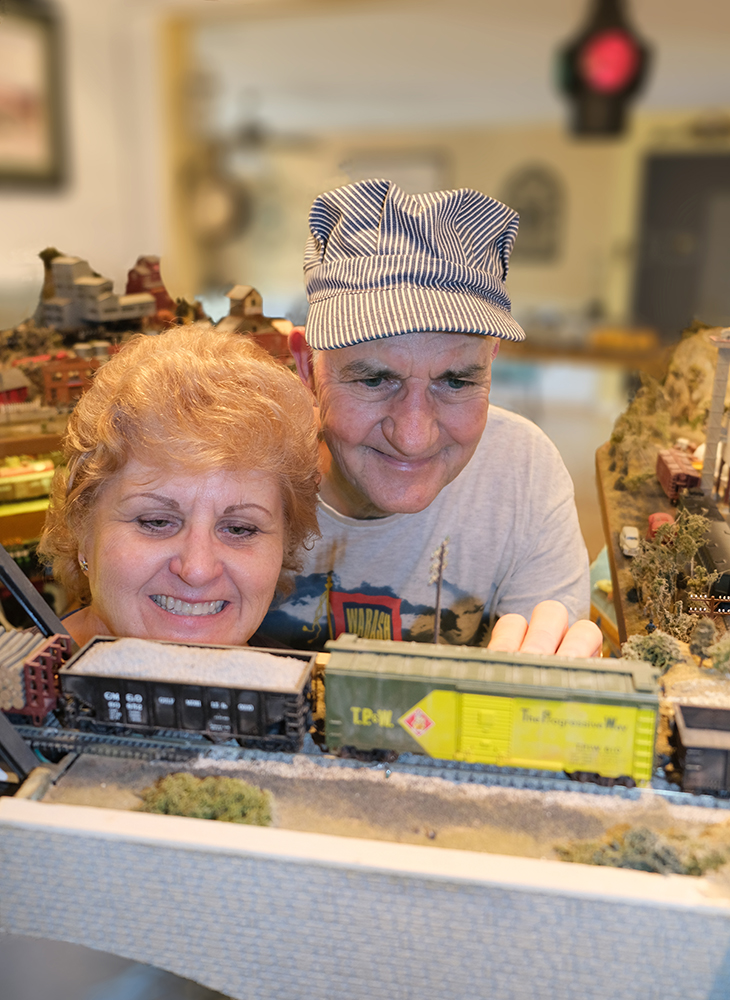 "My mom started my two brothers and I in this hobby when I was 8 years old," he said.
That was in 1960. Now, as he prepares to retire from the construction business, he uses model railroading to enhance STEAM education at elementary schools. It was Patty's idea.
As a library aide at Jacobson Elementary in Chandler, she saw Jim's retirement date approaching in March and knew he needed an occupation. She asked him about starting a kids' club on campus for model railroad.
In the classroom
When he agreed, Patty got the word out at the school, using the pull line, "Learn to build, wire and landscape your model railroad layout." The 10 slots filled up quickly this semester and there is a waiting list. Patty is in charge of the club, which meets weekly for 15 weeks.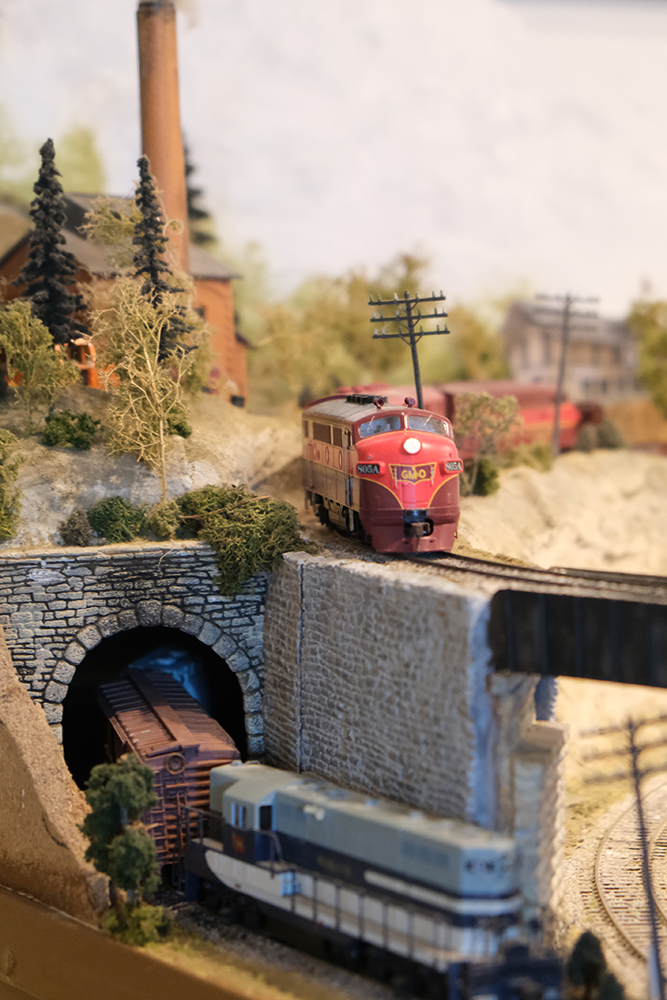 Working in teams and individually, the children are responsible for their own piece of track. When all connected, it will be 18 feet long and six feet wide. Using kits, each child builds a freight car and a building. They each get an 18-inch backdrop to paint, and they paint their own roads.
The Sun Lakes Short Line Model Railroad Club donated boxes of miniature buildings for the children to add to the layout. The Van Houtens will show them how to make mountains and trees.
"We're using STEAM – science, technology, engineering, mathematics, and the A is for art," Jim Van Houten said. "So, we're using the STEAM terminology."
The "we" is telling. The model train hobby has been part of their marriage for four decades.
On the move
When she married Jim 42 years ago, Patty knew what she was getting. Her uncle had a model train layout in his house that was absolutely hands-off. Jim wasn't that persnickety, but Jim and his train layout came in the same package.
"When I met him, he had his furnished apartment; he lived upstairs in some old lady's house," Patty Van Houten said. "He had a little layout then."
At the time, they were both in engineering for the construction of a nuclear power plant on Long Island, New York. Patty, who is from Queens, was in charge of all the design changes as her full-time job while going to school at night. He was on his first project out of college as a civil engineer.
Because they worked out of different trailers, they had to speak on the phone. He claimed he could barely understand her, and she thought he was from Texas. In person, however, they could communicate just fine.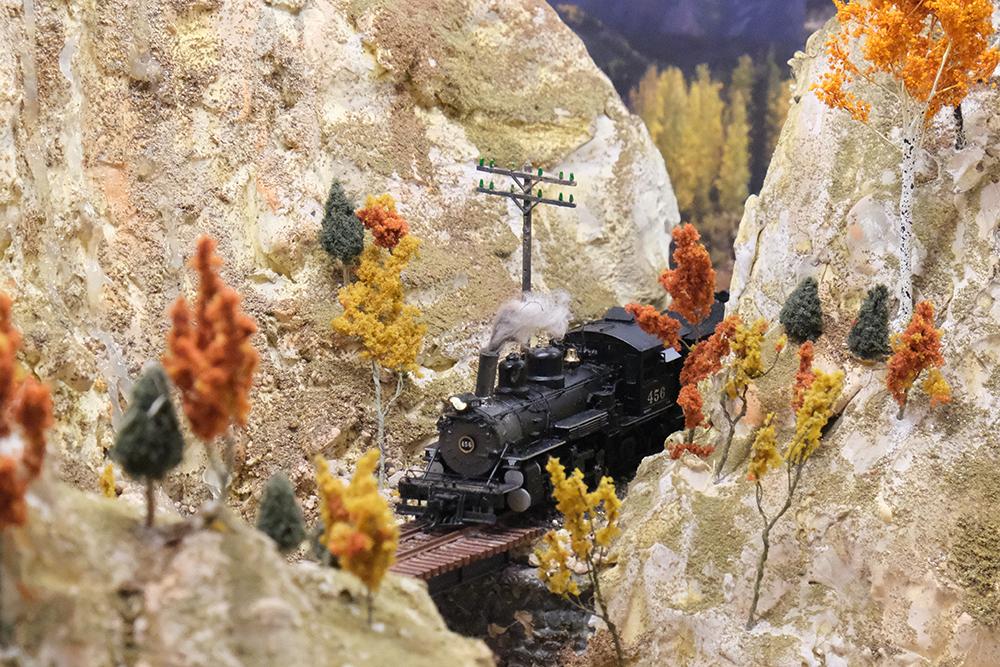 During their marriage, they have moved 16 times. Along the way they had two children (one of whom is an engineer) and three grandchildren. Patty said the longest they have lived anywhere has been the 14 years in Maricopa.
A deciding factor in how they chose their Province home was the necessary space for a model train layout.
"When we picked the house, we saw the room," she said, "and I said, 'OK, this will be perfect for the train. You can watch football. You can do whatever you want. I know where you are at all times."
Bringing only bridges he had built earlier and one corner, Jim began building a new layout from the moment they moved in. The train room was the first room to be painted.
"I'm a civil engineer," Jim Van Houten said. "I guess I'm artistic. I've made these bridges from scratch, and they were on the previous layout when we lived in Chandler for six years before we moved here."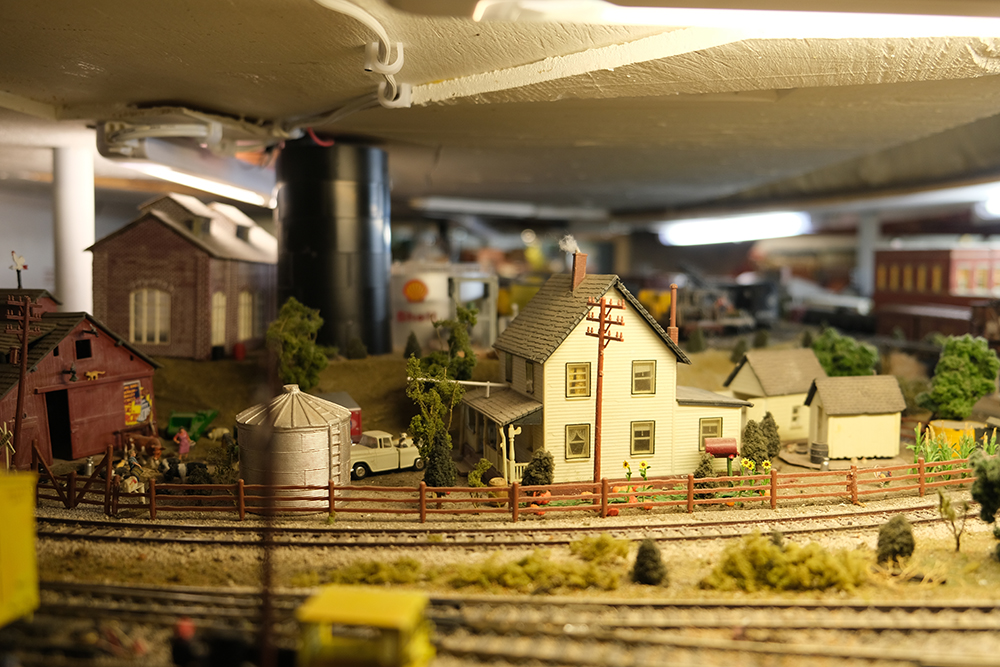 Hometown tribute
A focal point in his re-imagining of Moberly was a model farmhouse his mother made when she introduced Jim and his brothers Larry and Aubrey to the hobby all those years ago. His family owned a John Deere dealership, so all the farm equipment is John Deere. His grandfather owned a coal company, so a coal company features prominently.
His grandparents' home and his childhood home are next to each other, along with his grandmother's pink picnic table used so frequently for family gatherings and a backyard baseball field. Canoeists paddle past Durango. Guys on a bridge "moon" passing traffic. There is a powerplant, a brewery and a meatpacking warehouse along with standard all-American hometown stores and homes.
In some instances, when he has recreated a real building for the miniature set, he included a photo of the building on the wall behind.
Jim's early experience working on a bridge gang, section gang and rail gang for Norfolk and Western Railroad also shows up on the set.
Expert eyes
"You can't actually take in everything in one visit," said Joe Algozzini, model train buff and relatively new Maricopan who is well known among model train collectors because he has literally written the book on post-war train collections. "I feel like I'm 12 years old again myself."
In his blog at ToyTrainHallOfFame.org, Algozzini wrote extensively about the Van Houtens and how he came to discover them after moving to town.
Viewing the train layout through professional eyes, he wrote, in part, "Jim's cleverly constructed and fine detailed layout highlights just a few of the many places, times and events associated with those wonderful years gone by, but never truly forgotten."
And Patty Van Houten is not an innocent bystander in all this.
"I do the scenery. I do the paint colors. I do plastering," she said. "A little bit of everything."
Algozzini goes so far as to credit her with much of the work while Jim directs the action. Patty said there is a therapeutic component to Jim's constant work on the set.
"He's always creating, always thinking," she said. "And it keeps him out of trouble."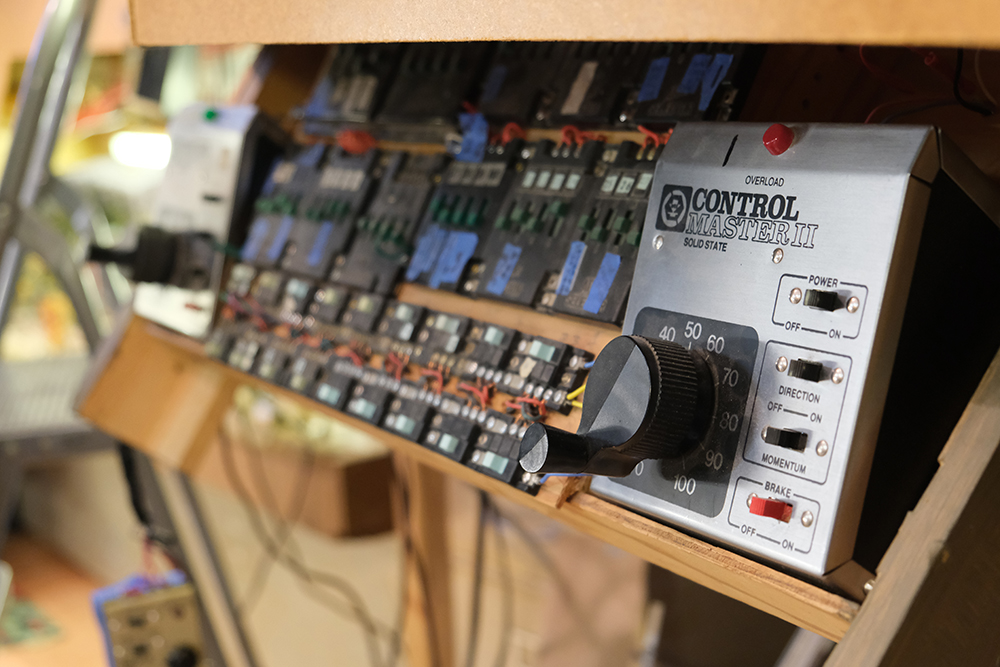 It has also kept him close to his brothers, who still live in Missouri and have train layouts in their basements.
"In the summers we didn't have air conditioning, so we'd go to my grandmother's basement to play in there," he said. "We still do things for each other. My older brother makes cedar trees. My younger brother does all the detail stuff on decals. I make a lot of freight cars and make decals. I customize them – I either put the last digits of the year they were born, the month they were born, the day. You'll find the exact series of cars that the Wabash had, so I customize the numbers just to match them."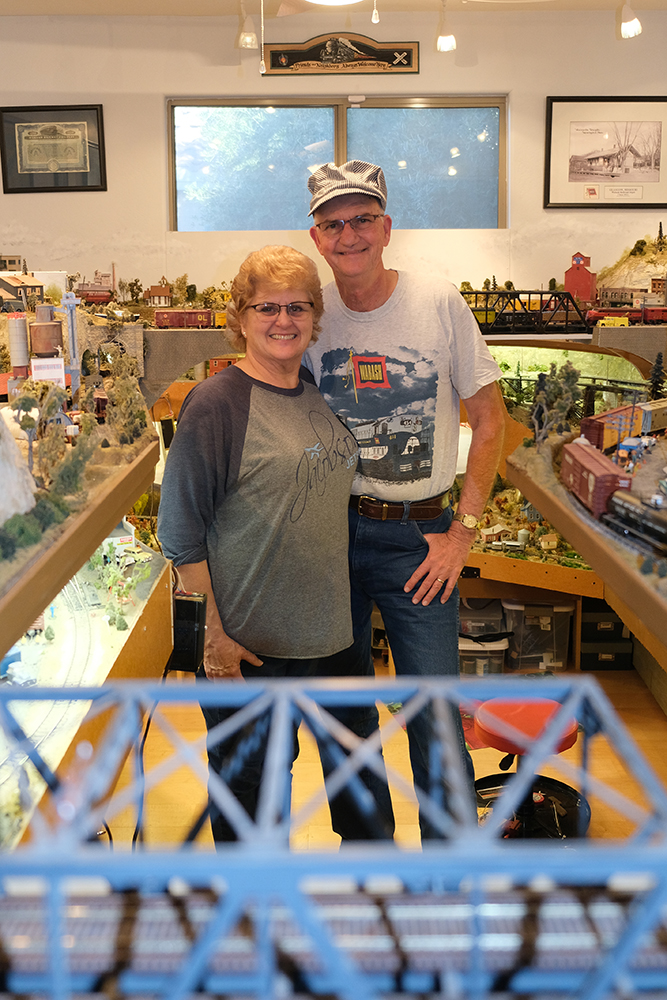 How much have the Van Houtens invested in a lifetime of the model train hobby?
Jim cheekily responded, "$200."
"Liar," Patty said. "He doesn't want me to know."
"You're never finished with it. You just keep adding detail and improving things," he said. "I just want everybody to understand the hobby, and I want to share it and expand it."
---
This story appears in the February issue of InMaricopa.