Maricopa police Chief Steve Stahl on Wednesday afternoon announced his retirement. It is effective Jan. 4.
Cmdr. Jim Hughes, who has been with MPD for nine years, will be his successor.
Stahl was not available for comment, but in an announcement released by the City, he stated, "It has been the honor of a lifetime to work with and for the dedicated men and women of the Maricopa Police Department. You all have made me very proud. I have also been humbled to serve with many federal, state, county and local law enforcement leaders throughout the country. They have all helped me tremendously.
"Thank you to all the city managers, mayors and councilmembers for having faith in me and giving me this opportunity. Most importantly, I would like to thank my wife for her constant patience and love; and to my children for the sacrifices they have endured by having a law enforcement father. It is now time to devote my efforts into being a better husband, father and grandfather."
City Hall has long praised Stahl for bringing a high level of professionalism to the police department. During his tenure, MPD helped pioneer the use of body-worn cameras. The department earned the status as the youngest city to ever reach national accreditation through the Commission on Accreditation for Law Enforcement Agencies.
"It has been my pleasure to work with Chief Stahl," said City Manager Rick Horst in the news release. "He has provided steady, progressive leadership inside the department, and has also made a positive impact as a member of the City's leadership team and as a community leader, involved in a wide variety of projects that extend beyond traditional police work into matters of equity and community well-being."
MESA TO MARICOPA
Stahl came to Maricopa in October 2011 from Mesa Police Department to serve as interim police chief. He was named chief in February 2012.
A native of Redfield, South Dakota, Stahl rose to the rank of commander with the Mesa department. He found a Maricopa force riddled with low morale.
After the resignation of his predecessor, Patrick Melvin, the City hired auditing firm Citygate Associates, which found many MPD officers did not trust the internal-investigation process. Half of the citizens who responded to a Citygate community survey said they were "dissatisfied" with MPD.
Stahl's appointment was meant to be temporary until a proper replacement could be found to take over and reinvigorate MPD. Officers warmed to the change and specifically to Stahl.
"Through my observations and the feedback I've received from the community, our city council members, the police department staff and others, I knew we had the best qualified candidate already on board," then-City Manager Brenda Fischer said at the time.
Stahl adopted recommendations from the audit and rearranged the department. As the city began to recover from the Great Recession, demands on the department grew. Stahl pushed to have a budget that could grow at the same pace.
Last year, he said MPD was evolving into a more efficient police department. "When we ask for more officers, it is absolutely justified."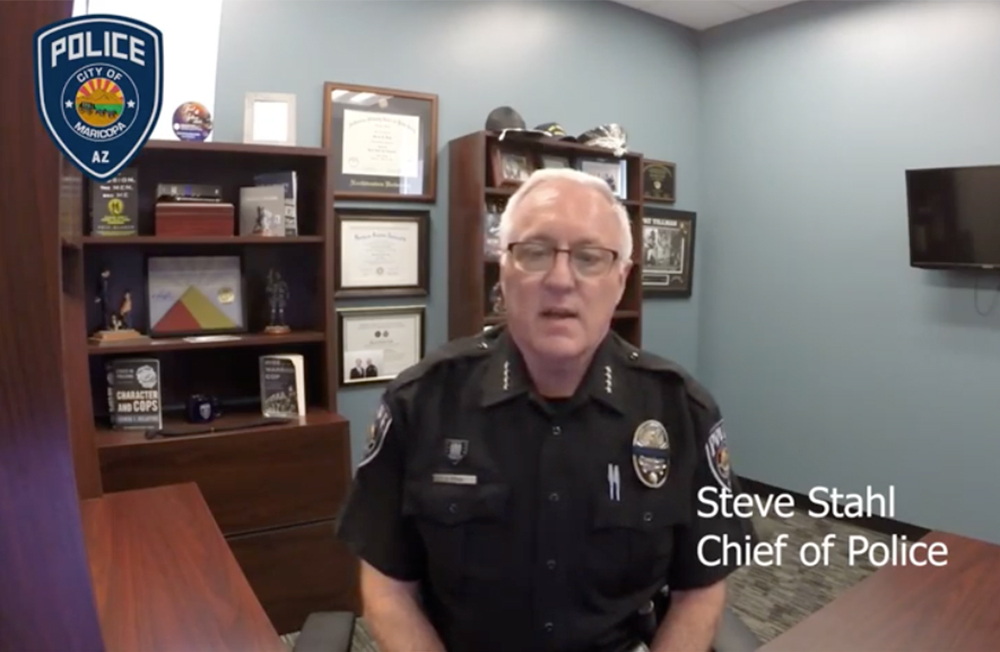 MISSTEPS AT MPD
Maricopa City Council has long praised Stahl for bringing a high level of professionalism to the police department.
But several incidents during Stahl's tenure sullied the department's reputation.
Most recently, K-9 Ike died this summer after he was trapped for up to 90 minutes in a police vehicle on a 108-degree day. Officer Craig Curry, Ike's handler, told investigators he left the vehicle running with the air conditioning on when he entered police headquarters for an afternoon meeting. But when he checked on the 9-year-old Dutch Shepherd during a break, the vehicle was off and the windows were up even though it was outfitted with a K-9 heat safety system designed to alert the handler to problems with the vehicle that could endanger a K-9's life.
The dog, found in a severe state of heat stroke, was euthanized about 11 hours later.
Stahl announced Ike's death two days later in a "Critical Incident Notification" video posted on the department's YouTube channel. He gave few details at the time, other than calling it a "heat-related incident" and saying he would ask the state to investigate.
The June 26 incident outraged many Maricopans and led to some chatter in town of what some saw as a cover-up. The Arizona Department of Public Safety criminal investigation report was turned over to Pinal County Attorney Kent Volkmer, who declined to prosecute Curry. An internal investigation continues at MPD and findings are expected soon, Stahl told residents in his monthly "Coffee with the Chief" video posted Saturday on Facebook.
In 2019, the department conducted summertime training involving K-9 searches in Butterfield Elementary School. A packet of drugs left behind by an officer was discovered weeks later by a teacher. While Stahl formally apologized to the community, residents were left with concerns about policy and accountability.
In January 2015, officers shot and killed an Army veteran and father of two named Johnathan Guillory, who was reportedly suffering from post-traumatic stress. DPS investigated that incident as well.
'WE DO HAVE COMMUNITY SUPPORT'
Population growth brought other challenges, too.
"Especially when people come to Maricopa and they're not from Arizona, they come with some preconceived notions," Stahl has said previously. "They come with a set of expectations that they're used to in their prior jurisdiction. Those are challenges sometimes to educate them on what doesn't apply here in Arizona. That doesn't apply to Maricopa."
During his time as chief, MPD was a pioneer in using drones as a policing tool and, perhaps more significantly, the department-wide use of on-body cameras. A substation was constructed at Copper Sky, and MPD created outreach to youth groups to talk about teen issues like safe driving, drugs and vaping.
The City pinpointed other changes in the department during his tenure:
Improved policing tools and use of data in crime reduction
Monthly "Coffee with the Chief" community outreach meetings
Earning status as youngest city to achieve national accreditation through CALEA
implementation of CompState, a performance management system to reduce crime
Consistent ranking as top 10 safest city in Arizona
Stahl was especially proud of the establishment of the Family Advocacy Center to help the department serve victims of assault and abuse.
Stahl, who lives in Maricopa with his wife, partnered with the NAACP in community dialogue when police-involved shootings started heating up the national dialogue four years ago.
"One of the things that continues to astound my peers across the country is we do have community support. We have community programs," Stahl said in 2016. "And rarely do you see a police department that has a group of volunteers that outnumbers the number of sworn personnel that you have in your agency, which is the case here in our city."
SUCCESSOR A 'TREMENDOUS LEADER'
Going forward, the plan is to have Stahl and Hughes collaborate for a smooth transition.
"It has been my privilege to serve as one of Chief Stahl's commanders for the last eight years," Hughes stated. "I have learned so much from Chief Stahl. His mentorship and support have prepared me for this tremendous opportunity. It is an honor to have been chosen to lead the amazing men and women of the Maricopa Police Department."
"Cmdr. Hughes has a proven track record as a tremendous leader," Assistant City Manager Jennifer Brown said in the news release. "His expertise in community policing and keen communication and collaboration skills are the perfect fit to continue to move the department in a positive direction as we grow and evolve as a city."
Hughes began his police career in Mendham Township, New Jersey, in 1986, moving all the way through the ranks to eventually serve as lieutenant for nine years, overseeing the day-to-day operations of the department, according to MPD. He has served as a police commander in the City of Maricopa since 2012, initially overseeing operations, building partnerships throughout the city and restructuring units and protocols for better efficiency and outcomes.
Most recently, he supervised the Support Services division, focusing on innovative solutions coupled with prudent spending to ensure the city has the tools and resources needed to be successful for years to come.
"The police chief/city manager relationship is one of the most critical partnerships in local government management," Horst said. "I am grateful that we have a well-prepared successor in the appointment of Cmdr. Hughes as our next chief of police. Not only will he bridge from the old to the new but will take us to the next level of modern-day policing and community service."